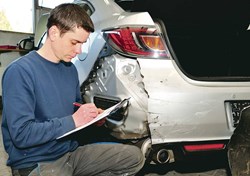 Burbank, CA (PRWEB) October 30, 2013
Probably no other industry knows the importance of the right insurance coverage than professional adjusters. When they handle automobile claims, home claims from damage and storms, or personal injury claims from falls and accidents they see first-hand how medical bills and legal fees can mount up. However, as an industry they are not exempt from needing coverage that was written just for their profession.
The risk is low for the claims adjuster to incur a customer slip and fall accident while on a job site, however, it is possible to inadvertently leave a tool, tape measure or other small item laying on the ground and an adult or child steps on it, lose their balance and falls. The general liability policy covers any accidents caused by the business owner or any of his employees.
This policy also covers any damage that the adjuster may cause to a client's property in the course of his job. In addition it will protect the adjuster from future claims that the work performed was substandard or not up to par. For instance, a homeowner may have had storm damage and the home was repaired down to exacting detail as outlined by the adjuster. If the homeowner goes to sell the home and the property is appraised for less than the homeowner wants, he may blame it on the adjuster who handled the appraising and estimates for the repairs. General liability insurance will cover the legal fees whether or not the adjuster is found to be at fault.
Errors and Omissions insurance proves to be valuable during the case where a client claims that the adjuster did not cover all the damage or was not fair in assessing the degree of personal injury. This coverage is designed to protect the policy holder if a customer ever claims that there was a professional mistake that caused financial hardship.
To learn the advantages of combining general liability insurance and errors and omissions insurance for professional adjusters, visit http://businessinsuranceusa.com/appraiser-professional-liability-insurance.
About USA Business Insurance: USA Business Insurance writes general liability insurance and professional liability insurance for hundreds of adjusters throughout the U.S. As insurance experts they understand the unique needs of the industry.