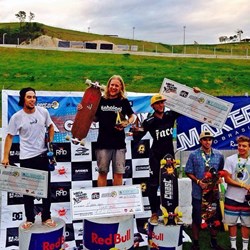 53 miles per hour!
New York, NYC (PRWEB) October 30, 2013
Bustin Boards is proud to announce the recent success, Jonas Richter has earned in the world of downhill Skateboarding.
Not only did Jonas Richter take home 5th place at The Mega Grand Prix Brazil, he also claimed 2nd place at Festival De La Bajada Colombia.
Young and talented Jonas Richter has had a big year. He turned 18 and has been a dominating force ever since, in the Open/Pro class in the International Downhill Federation Circuit and at every race he has attended.
Jonas always exuberates a positive attitude.
Part of what makes Jonas such a rad Bustin representative is that he is always smiling and generating stoke through his good vibes and humble personality.
Full Store: http://blog.bustinboards.com/jonas-richter-continues-his-triumphnt-season/
Honorable Mention:
Bustin rider William Royce took home 10th place and advanced all the way to the Quarter Finals. We are super proud of his achievements as well.
Q: How fast was the top speed for Downhill Skaters at The Mega Grand Prix?
A: 53 miles per hour.
Q: What was Jonas' Overall standing this year in the IDF circuit?
A: Jonas raced smart and hard all year long and wound up with an 8th place overall standing in the International Downhill Federation World Cup Circuit. Not bad for Jonas' first year competing in Open/Pro Class.