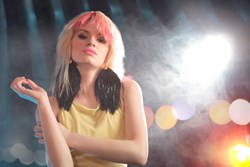 New York, NY (PRWEB) October 31, 2013
From the theatre stages to the music venues, Dena, an upstate New York singer, is on her way to becoming the next dance pop sensation with an edgy Rock and Roll twist. With her unique sound and unconventional look, Dena and loyal team including producer/manager, Jeff Dabella are giving the world of pop a new face to be recognized. With a range of influences from current acts like Paramore, Britney Spears, and Panic at the Disco, to some classics like Led Zepplin, the range of influence of sound comes across brilliantly through her debut EP, The One, and newest video, "Shot In The Dark". Just because Dena has some amazing influences through her music, her sound comes across completely her own and draws in an entirely different fan base.
She has since released a music video for her official single "Shot In The Dark", an upbeat dance club hit that highlights Dena's vocal ability and get you pumped up & ready to party. The video concept is as mysterious and different as Dena herself, based in a magic fairy tale setting. With Dena hard at work in the studio, she has now has her newest EP, The One, released on October 29th through Sono Recording Group.
Dena is working with a string of Grammy award winning writers and producers from Earl Cohen to Calvin Gains, who have worked with the likes of Lady Gaga, Pink, Whitney Huston, and Lupe Fiasco, just to name a few, who are hard at work backing her newest EP, The One through Sono Recording Group and Spotify through their worldwide distribution deal.