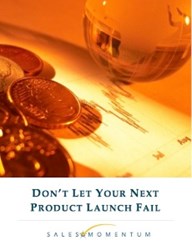 Make an extraordinary investment in a new product and failing to train the sales team to sell it is an extraordinary mistake.
Scottsdale, AZ (PRWEB) October 31, 2013
Sales Momentum today introduces how companies can provide their sales forces with product and sales training that lead to successful product launches. Historically, product launches to sales teams all too often more closely resemble escape plans than product launches to develop market superiority. The investment in training a sales team to sell a product is simply not commensurate with the importance of the new product.
"When launching a new product, the goal is not time-to-market; it's time-to-market share. This means the sales training investment should be made and sales training implemented before the new product is launched," according to Richard Ruff, co-founder of Sales Momentum.
This omission constitutes a strategic missing link. Even an extraordinary new product will not sell itself beyond early adopters. The sales team needs a comprehensive body of product knowledge and they need to fine-tune and adapt their sales skills to the customer requirements related to the new product. The more innovative the new product – the truer this proposition.
For an extraordinary product, it is only fitting that the training be extraordinary. How?
Product Training
Salespeople must know the features and functions of the new product. That's a given. But talking about a product and selling a product are two very different things. Extraordinary product training must include more than information about features and functions. Salespeople need a second tier of knowledge focused on product application.
For example: How does the product solve the various problems likely to be encountered by your customer base? How does it impact desired business outcomes like: productivity gain, risk management, expense reduction and revenue generation? Can the sales team delineate the research that demonstrates the product does what you say it does? And, can the individual salesperson fine-tune these narratives based on whether they are talking with a customer who is an engineer versus the CIO?
Sales Training
First, sales training must be customized specifically for the new product. Second, all everyone needs to come to the party not just salespeople – for example engineering/technical support people engaged in the sale, marketing people who understand the customer profiles that are most likely to be good fits, and sales managers who must provide initial guidance and coaching.
The sales training should drag the real world into the classroom so salespeople can practice selling the new product before the product is launched. The golden rule is "learn then launch" not "launch then learn." For example, the sales team should have been made aware of and practiced responding to the objectives they will face in the field before they ever encountered their first customer. Sales simulations are particularly effective instructional methodology for achieving the required realism.
The free white paper, Don't Let Your Next Product Launch Fail is available as a pdf file.
About Sales Momentum: For more than 30 years Dr. Richard Ruff and Dr. Janet Spirer – the founders of Sales Momentum – have worked with the Fortune 1000 to design and develop sales training programs that make a difference. By working with companies – such as UPS, Smith & Nephew, Textron, the Center for Creative Leadership, and Robbins & Myers – they have learned that today's standard for a great sales force significantly differs from yesterday's picture. Janet and Richard co-authored Mastering Major Account Selling and Parlez-Vous Business. They also publish the sales blog - Sales Training Connection. Richard co-authoredManaging Major Account Selling and Getting Partnering Right. The books are available here.
©2013 Sales Momentum® LLC