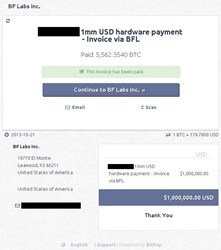 We're pleased to be the preferred hardware supplier for HashTrade,
Overland Park, KS (PRWEB) October 31, 2013
Butterfly Labs (BF Labs Inc.), the Kansas-based leader in Bitcoin Mining technology, has announced that it has processed a payment of One Million dollars in Bitcoin through Bitpay - the largest single transaction ever executed by a Bitcoin payment processor.
These funds represent a down-payment on a multi-million dollar order from HashTrade, a sister company of one of Butterfly Labs' largest existing customers. The multi-PetaHash order is for Butterfly's innovative 28nm Monarch card, and these initial funds will be used to enable production of products which the company will begin delivering in December 2013.
"We're pleased to be the preferred hardware supplier for HashTrade," said Jeff Ownby, VP of Marketing for Butterfly Labs. "Our Monarch cards have been designed for easy deployment in large scale Bitcoin mining operations. The PCI form factor allows operators great flexibility using only common, off the shelf cases & power supplies. In high performance mode, significant performance beyond published figures can be realized. Then, should power conservation be the greater operational need, cards can be run in their efficiency mode with an almost halving of power consumption per unit of work performed."
This is a major endorsement of Butterfly Labs' technology and ability to deliver, from one of the industry's most significant players."Butterfly's technology is robust and reliable and our relationship is very strong," said Greg Bachrach, Co-Founder and CEO of HashTrade. "Having worked with their equipment now for some time, we are confident of Butterfly Labs' ability to deliver based on their multi-generational experience designing, producing and delivering high performance mining equipment. Because of this we feel that Butterfly Labs is one of the only institutional hardware vendors uniquely positioned to deliver exactly what they advertise."
About Butterfly Labs
Butterfly Labs (BF Labs, Inc) is a Kansas-based manufacturer of hardware used for securing online transactions in the Bitcoin and other networks. Visit http://www.butterflylabs.com
Contact
Jeff Ownby
708-601-4170
jeff(at)butterflylabs(dot)com
About Hashtrade
HashTrade is a premier data processing organization enabling all individuals to benefit from mining Bitcoins without having to purchase or operate any hardware. HashTrade will soon be offering hashing contracts to the public so anyone interested in profiting from Bitcoin mining will be able to do so in a simple and friendly way. Visit http://www.hashtrade.com
About BitPay
BitPay is a Payment Service Provider (PSP) specializing in eCommerce, B2B, and enterprise solutions for virtual currencies. Visit https://bitpay.com.
Contact
Jan Jahosky
407-331-4699
jan(at)bitpay(dot)com