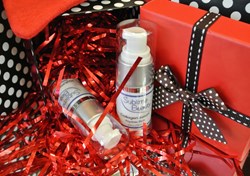 Our new Christmas Buyers Guide can be downloaded or viewed on our website. It has great ideas for gifts and stocking stuffers - for men and women!
St. Petersburg, FL (PRWEB) November 04, 2013
The rush of the season is upon us, and sooner than we think, the holidays will be here. Sublime Beauty® helps with gift giving this year by offering a Christmas Buyers Guide and gift ideas.
"We put together a number of our popular serums in lovely Christmas boxes with bows," says Kathy Heshelow, founder of Sublime Beauty®. "We also matched serums with fashion jewelry in the same festive box. No fuss over gift wrapping - these gifts are very nice and ready to give."
Most (but not all) of the items are in stock now, with mark-downs for pre-holiday shopping. All items are sold on Amazon, and Sublime Beauty® will soon have an additional Amazon webstore. "We like the free shipping, benefits for Amazon Prime members, and the great customer interface," says Heshelow, who prizes excellent customer service.
All Sublime Beauty® products come with a money-back guarantee for returns or exchanges. The fashion jewelry pairings with popular serums will be in limited supply, and are unique gifts top give.
The Christmas Buyers Guide can be downloaded from the Sublime Beauty® website, and there are a number of Christmas videos with ideas for stocking stuffers, general gifts and special boxed pairings.