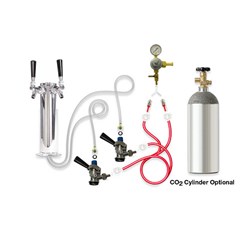 Austin, TX (PRWEB) October 31, 2013
Kegerator.com has recently added a new line of TapRite beer accessories to their online store. Each product is thoroughly tested before being made available to the public to ensure it meets the highest standards of quality, reliability, and functionality. Some of the most popular new products include the TapRite kegerator tower conversion kit for dual tap configuration and precision double gauge CO2 beer regulator with knob.
The TapRite kegerator tower conversion kit for dual tap configuration is designed to make it easy for single tap kegerators to be converted to a dual tap formation. It includes all of the necessary pieces to ensure the configuration process is as easy as possible. This kit includes:

3" Stainless Steel Draft Beer Tower (Dual Faucet)
Single Gauge CO2 Regulator
2 "D" Sankey Couplers
Plastic T for ID Hose
4 Plastic Snap Clamps
And faucet wrench
TapRite is the preferred supplier to numerous well-known brands in both the soda and beer industries across the globe. It was founded in New Jersey in 1940 and has been a leader in innovation and quality ever since. All TapRite products are proudly made in the USA.
Kara Zorn, Directory of Category Management recently stated, "Kegerator.com has consistently delivered the highest quality kegerator and home brewing products available. TapRite has proven to be a reliable supplier so it should be no surprise we have added a variety of their products which are critical to in-home brewing and kegerator success. Everything from the full conversion kit to individual components is extremely durable and reliable."
Kegerator.com is a owned and managed by the Living Direct family. You can also follow them on Facebook, Twitter, and YouTube to discover more about their amazing products, discounts, and giveaways. Feel free to call 1-866-975-4846 for additional information.