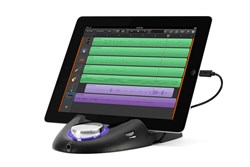 "Our Apple iOS music accessories offer easy connectivity so artists can capture and build on their ideas whenever inspiration strikes," said Andrew Biddle, audio product manager, Griffin Technology.
Milwaukee (PRWEB) October 30, 2013
Hal Leonard Corporation has signed a deal to exclusively distribute Griffin Technology music products and accessories to the MI trade in the United States and Canada starting November 1, 2013. Hal Leonard Senior Sales & Marketing Manager Brad Smith reached the agreement with Andrew Biddle, audio product manager at Griffin.
Founded on inventor and innovator Paul Griffin's kitchen table in 1992, Griffin Technology has evolved into one of the world's foremost creators of accessories for home, mobile and personal technology. The privately held company is based in Nashville.
While making an extensive line of Griffin's products available to its expansive retailer network, Hal Leonard will focus on distributing Griffin's high-quality music recording, playback and performance tools designed with musicians in mind. Using Griffin's intuitive and functional interfaces that connect instruments or microphones to Apple iPads, iPods and iPhones, users can create music, produce podcasts, DJ a party and more.
StudioConnect with Lightning, GuitarConnect Pro, GuitarConnect Cable, and MicConnect are perfect for musicians who want to practice, record and perform anywhere, using the power of an iPad or iPhone. Griffin's WoodTones headphones and earbuds, also ideal for sale into the MI channel, work with any audio device with a 1/8" jack (or an adaptor).
"With the rapidly changing face of technology today, anyone with a smartphone, tablet or laptop has a powerful recording studio at their fingertips," said Smith. "Griffin has a long and successful history of working with Apple, and produces superb products for musicians looking to make music on their iOS devices."
He added, "This line gives musicians on the go high-quality, useful products at an affordable price. Griffin is a shoo-in for the MI channel, offering everything from powerful interfaces to hip Survivor iPhone cases perfect for point-of-purchase sales. We're happy to be working with them."
Biddle, at Griffin, said, "Our Apple iOS music accessories offer easy connectivity so artists can capture and build on their ideas whenever inspiration strikes. We're hoping such inspiration will also now strike in music stores across the continent. Partnering with Hal Leonard will put our products in front of a huge new market of musicians, and we're thrilled about the possibilities."
For more information about Griffin Technology, please visit http://www.griffintechnology.com/music, http://www.facebook.com/griffintech and @griffintech.
To place an order for Griffin products, please call the Hal Leonard E-Z Order Line at 800-554-0626, email sales(at)halleonard(dot)com or visit http://www.halleonard.com.
About Griffin Products
StudioConnect with Lightning (HL00123891 / $149.99) is Griffin's popular all-in-one audio interface for music creation on the iPad, now compatible with the just released iPad Air and iPad mini with Retina display as well as the iPad (4th generation) and iPad mini. In one compact device, StudioConnect provides great-sounding plug-and-play convenience for guitars, stereo audio, MIDI-In/Out along with a Lightning charging dock. It also features line-level RCA stereo output and stereo headphone output with separate volume control.
GuitarConnect Pro (HL00123887 / $89.99) solves the connectivity problem between a guitar and an iPad, iPhone or Mac computer in one convenient ¼" instrument jack connector. Simple and intuitive, GuitarConnect Pro converts a guitar's analog signal into a 100% digital connection so users can play, record and even multitrack in 24 bit, 48kHz quality. Includes three detachable cables for compatibility with both iOS and Mac devices.
GuitarConnect Cable (HL00123978 / $29.99) lets musicians hear their guitar as they play through effects apps on an iOS device. A ¼" jack plugs into a guitar or bass, a ¼" plug plugs into an iPad, iPhone or iPod touch, while another attached 1/8" jack accommodates a pair of headphones for monitoring. Musicians can perform along with pre-recorded tracks or effects loops, such as Apple's GarageBand and most Core Audio apps, in complete silence.
MicConnect (HL00123890 / $39.99) is an easy-to-use, battery-powered microphone interface for iPad, iPhone and iPod touch that's great for performance, practice or recording. An XLR input on one end is used to connect a microphone, and a 1/8" audio cable on the other end plugs into the iOS device's headphone jack, allowing for the recording of pristine vocal tracks. MicConnect also makes it possible to record amplifiers, acoustic instruments and other music-making tools right into GarageBand.
WoodTones Headphones (HL00123985 – Walnut, HL00123986 – Beech, HL00123987 – Sapele / $99.99) prove there's a reason they don't make fine violins and grand pianos out of plastic. Wood simply sounds better. Griffin is proud to offer these exceptionally great-sounding and great-looking headphones, each with unique hand-turned wood, color and markings, polished to a smooth, satin finish. Available in Walnut, Sapele and Beech, Griffin WoodTones impart warm overtones that accentuate the mid-range. Vocals come alive, and low frequency bass emerges without distorting harmonics or clarity-destroying echoes. You'll notice an improvement in sound volume, as well; you may find yourself listening at a lower volume level than usual, yet enjoying it more. WoodTones Earbuds and Aux Cables are also available.
About Hal Leonard Corporation
Founded in 1947, Hal Leonard Corporation (http://www.halleonard.com) is the world's largest music print publisher and digital content provider, producing songbooks, sheet music, educational publications, reference books, DVDs, magazines, eBooks, digital sheet music, apps and more.
The company is also a major distributor of music technology products, selling and marketing the most popular software, hard goods and accessories available today, to musicians and recording enthusiasts around the world.
In its more than 200,000 available publications and products, Hal Leonard represents many of the world's best known and most respected publishers, artists, songwriters, arrangers and manufacturers. The company is headquartered in Milwaukee, WI and also has domestic offices in Winona, MN; New York; and Nashville; and offices abroad in Australia, Belgium, China, France, Germany, Holland, Italy, Switzerland and the United Kingdom.
About Griffin Technology
Founded on Paul Griffin's kitchen table in 1992, Griffin Technology Inc. is today one of the world's foremost creators of accessories for home, mobile and personal technology. Unique products such as iTrip®, PowerMate®, iFM®, iMic® and Evolve® Wireless Speaker System have broken new ground in consumer electronics and created loyal fans the world over. Today, Griffin products are conceived, designed and developed in-house and continue to push the envelope of the industry they helped create. Learn more about Griffin's entire range of ingenious designs at http://www.griffintechnology.com, http://www.facebook.com/griffintech and on Twitter, @griffintech.
MEDIA CONTACTS:
Hal Leonard
Lori Hagopian
lhagopian(at)halleonard(dot)com
414-479-8406 (Office: Tu & Th)
414-460-3439 (Cell)
Griffin Technology
Jackie Ballinger Anderson
Jackie(at)griffintechnology(dot)com
615-399-7000 x 271