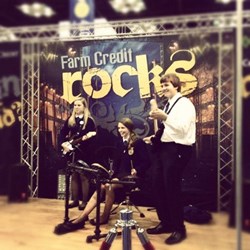 Louisville, KY (PRWEB) October 30, 2013
Farm Credit has dubbed this month 'Rocktober' in honor of the third straight year their team will bring its Farm Credit Rocks program to the National FFA Convention and Expo, an annual celebration of the next generation of farmers, ranchers and advocates for rural America, which starts today in Louisville, Ky. Those who aren't able to make it to Louisville can follow the conversation on Facebook and Twitter using the hashtags #FarmCreditRocks and #Rocktober.
Here are a few of the activities Farm Credit plans to attend during the 2013 FFA Convention:

Farm Credit Rocks: All FFA Expo attendees are invited to stop by booth #1821 to rock out on stage, spin the prize wheel and learn more about career opportunities at Farm Credit. Post your rockin' photos to Facebook, Twitter or Instagram with the hashtag #Rocktober. [WHEN & WHERE: Oct. 30 - Nov. 1; KEC Expo Floor Booth #1821]
Collegiate Career Fair: Collegiate FFA aims to create premier leaders, enable personal growth and ensure career success. Career Fair attendees will have the opportunity to learn about the wide variety of career and internship opportunities available at Farm Credit nationwide. Stop by the Collegiate Career Fair to learn more – Farm Credit (#CF4) and CoBank (#CF26). [WHEN & WHERE: Oct. 31 & Nov. 1; 1 – 3 p.m.; KEC Expo Floor in the exhibit hall]
American Degree: More than 3,500 FFA members will receive an American Degree during the award ceremony. Recipients, representing less than half of one percent of all FFA members, have demonstrated the highest level of commitment to the organization and have made significant accomplishments in their Supervised Agricultural Experiences. #AmericanDegree [WHEN & WHERE: Nov. 1; 7:30 – 9 a.m.; KEC West Hall AB]
We Are FFA: Visit the interactive "We Are FFA" room that provides FFA members an opportunity to let their voices be heard through participation in individual and state competitions. We Are FFA strives to foster and sustain an environment of inclusiveness that empowers everyone to achieve the highest potential without fear, prejudice or bias. #WeAreFFA [WHEN & WHERE: Oct. 30 – Nov. 1; KEC Rooms E3 & E4]
Farm Credit associations and banks across the nation contribute to FFA chapters at a local and regional level, and Farm Credit's National Contributions program is proud to support FFA national programs on behalf of the entire Farm Credit System. In addition to the annual convention, Farm Credit supports the New Century Farmer program and the National FFA Alumni Development Conference.
# # #
About FFA
National FFA, also known as Future Farmers of America, educates its 540,000 middle and high school students about the science, business and technology of agriculture. The 2013 Convention is being held Oct. 30 – Nov. 2 in Louisville, Ky. Farm Credit National Contributions is a sponsor of the organization, and many of Farm Credit's regional entities support local chapters with both financial donations and volunteer hours.
About Farm Credit
Farm Credit is a nationwide network of borrower-owned lending institutions, providing more than $191 billion in loans, leases, and related services to agriculture and rural America. For more information about Farm Credit please visit http://www.farmcredit.com.