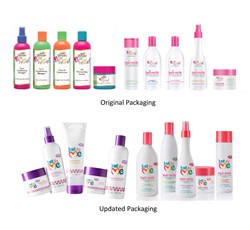 We are thrilled to unveil our new brand and packaging look as a way to better connect with our consumers and deliver on our promise of promoting a lifetime of healthy hair. - Erica Roberson, Unilever.
New York, NY (PRWEB) October 30, 2013
Just for Me, the first ethnic hair care brand made specifically for children, has unveiled a new look! Created by Dragon Rouge, the brand and packaging re-fresh focuses on the values and promise of Just for Me; providing a strong foundation for a lifetime of healthy hair growth while celebrating the mother-daughter bond formed through the ritual of hair care.
Since it's initial launch in the 1990's, Just for Me has developed a trusted heritage and loyal consumer following. But as the brand has expanded and diversified, Just for Me needed to bring clarity to the brand along with a consistent, cohesive look and feel to define its variety of product offerings and better communicate its product benefits. Just For Me turned to Dragon Rouge and Ogilvy Chicago to re-position and re-design the brand to broaden its appeal and re-establish its leadership position in the multi-ethnic hair care category.
"Just for Me is an iconic brand in ethnic care hair," said Nicole Prefer, Senior Brand & Innovation Strategist at Dragon Rouge. "We wanted to build on the brand's strong foundation to create a visual identity that captured the emotions and intimacy of hair care, and helped consumers navigate the line to choose the best products for their family."
Along with new brand positioning, Dragon Rouge developed a new identity and packaging look to convey the prominent themes of the brand - feelings of warmth, caring, gentleness, and protection. The updated design system incorporates a white background (expressing gentleness and protection) and contains graphic cues to help better navigate the range of products among the two different product lines (natural and chemically treated hair). The new logo also incorporates a heart-shaped "M" and uses warm, bold colors that evoke the emotional bonding moment between mom and daughter associated with hair care. The use of a bolder, more mature font also communicates credibility and efficacy.
"Over the years, Just for Me has been an integral part of hair care for mothers and daughters with multi-textured hair," said Erica Roberson, Brand Manager Unilever Multicultural Hair Care. "We are thrilled to unveil our new brand and packaging look as a way to better connect with our consumers and deliver on our promise of promoting a lifetime of healthy hair."
About Dragon Rouge
Dragon Rouge is the largest independent global brand, design and innovation consultancy with 9 offices and over 350 employees worldwide. Dragon Rouge designs brands, develops insights that underpin future brand success, initiates the creation of new products and services, creates identities and communications - and engages people in making their organizations great.
Dragon Rouge recently published 'Business is Beautiful – The hard art of standing apart' which explores the hidden 'unmeasurables' of successful business stories. It defines the five hallmarks of beautiful businesses - integrity, curiosity, elegance, craft and prosperity and provides an antidote to the obsessive distillation and quantification of statistics in business. It contains interviews with 20 businesses, including BMWi, Rabobank and 3M. To find out more visit http://www.dragonrouge-usa.com or http://www.business-is-beautiful.info.
About Unilever
Unilever is one of the world's leading suppliers of Food, Home and Personal Care products with sales in over 190 countries. Our products are present in 7 out of 10 homes globally and are used by over 2 billion people on a daily basis. In the United States and Canada the portfolio includes brand icons such as: Axe, Becel, Ben & Jerry's, Bertolli, Breyers, Caress, Clear Scalp & Hair Therapy, Consort For Men, Country Crock, Degree, Dove personal care products, Fruttare, Good Humor, Hellmann's, I Can't Believe It's Not Butter!, Just for Me!, Klondike, Knorr, Lever 2000, Lipton, Magnum, Motions, Nexxus, Noxzema, Pond's, Popsicle, Promise, Q-tips, Ragu, Simple, Slim-Fast, Soft & Beautiful, St. Ives, Suave, tcb, TIGI, TRESemmé, Vaseline, and Wish-Bone. All of the preceding brand names are trademarks or registered trademarks of the Unilever Group of Companies.