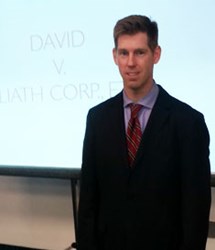 Using Technology has Helped our Clients Receive the Justice They Desire Efficiently and Effectively.
Fort Lauderdale, Florida (PRWEB) November 04, 2013
Florida Injury Lawyer, Sam Coffey, recently spoke at the Broward County Bar Association Bench and Bar Conference on October 18. At the conference he spoke about "Preparing Your Case For Trial in The New Technology Arena."
A Fort Lauderdale Personal injury Attorney, Mr. Coffey discussed how to enhance the power of persuasion for his clients, by harnessing new technology and preparing personal-injury and wrongful death lawsuits from both the plaintiff and defense perspective. His lecture focused on tricks, tips, software applications and techniques to present cutting edge visual presentations at trial to give lawyers an advantage in the court room. Methods taught lawyers how to take advantage of the best technology in order better prepare their case for trial while being cost conscious. He discussed policies and procedures to implement a paperless office workflow. Further, he explained how this could be achieved by utilizing electronic mail, an inbox and outbox system, a paperless filing system, and the use of electronic signatures of documents which all contributes towards improved workflow. The basic hardware and software necessary to implement this system was described in detail. All of these advances will in order to help clients receive just compensation for their injuries.
Ft. Lauderdale personal injury lawyer, Sam Coffey is experienced trial lawyer and partner at the firm of Abramowitz, Pomerantz & Coffey, PA.. He represents victims in cases of personal injury, catastrophic injuries, harmful and defective products, defective drugs, negligent drivers and dangerous conditions. Sam Coffey's accolades include being on the Bar Register of Preeminent Lawyers and he is AV-rated by Martindale-Hubbell. He is a prominent member of the Broward County Bar Association, the Broward County Justice Association, an EAGLE member of the Florida Justice Association and The Florida Bar.
Abramowitz, Pomerantz and Coffey, P.A. is the premier firm for personal injury representation in Ft. Lauderdale, Broward County, and South Florida. They specialize in cases dealing with wrongful death, product liability, premises liability, auto accidents, medical malpractice, and any other case where wrongful personal injury was involved.
The attorneys of Abramowitz, Pomerantz and Coffey, P.A. have directed many high profile and precedent setting cases involving numerous multimillion dollar settlements and verdicts in their clients favor.
In order to seek more information about the law office of Abramowitz, Pomerantz and Coffey, P.A. please visit floridainurylawyers.com for 24/7 telephone consultations (1-800-909-5529), live chat on site, and up to date news stories and blog posts.