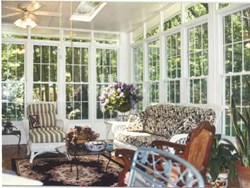 Sunrooms can be made to complement many styles of homes and types of neighborhoods.
Miami, FL (PRWEB) October 30, 2013
South Florida homeowners came to Venetian Builders, Inc., in record numbers so far this year to add fully enclosed, climate-controlled indoor living space with aluminum sunroom additions, Venetian President Chris Noe said.
Sun room construction was the primary residential improvement installed by Venetian during the first seven months of 2013 in Deerfield, Coral Springs, Cooper City and Sunrise in Broward County; Lake Worth and Boynton Beach in Palm Beach County; and Miami-Kendall and Homestead in Miami-Dade, Noe said. Florida rooms also sold well in Miramar, Broward County, where patio roofs were the primary income source for Venetian, Noe said.
Venetian also services the Keys in Monroe County.
"If you look at that list of communities, you can see that they're not all the same types of places, and that their neighborhoods are not all the same," Noe said. "That's one reason custom-designed aluminum sunrooms are so popular: They can be made to complement many styles of homes and types of neighborhoods. They also can be designed and engineered to meet a variety of needs, such as living rooms, family rooms, entertainment centers, play areas, home theaters and home offices."
Custom design lets Venetian build for a wide price range, Noe said. "We custom design everything, so we can make a solarium work not only for the homeowners' needs, but also for their budget," Noe said.
Customers have told Noe they especially like two attributes of aluminum sunrooms, Noe said: "Aluminum-framed living spaces go up faster than similar-size rooms built by traditional construction methods, because of the technology involved and because of code requirements. And they cost less, largely because less on-site labor is required."
Venetian custom-fabricates its aluminum frames in its own facilities. It also custom-fabricates removable acrylic windows and custom-orders other windows to meet the needs of each project.
Venetian assembles its 4 season rooms on each lot.
Venetian offers detailed, written, free estimates on sunrooms, patio roofs, patio covers and screen pool enclosures. Its free in-home consultations include curbside access to the Venetian mobile showroom. "For any homeowner, our showroom is a few steps away, not miles away in South Florida traffic," Noe said.
For more information call 866-596-2427.