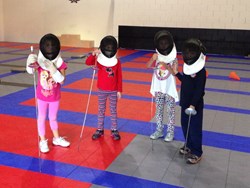 Coach Natasha vast experience and dedication to teaching and inspiring her students makes the sport of fencing challenging, exciting, and fun for even the youngest learners
Campbell, CA (PRWEB) October 30, 2013
The Little Fencers Program uses engaging interactive games to teach young children basic fencing skills while they exercise and burn off energy in a constructive way. Most importantly, The Little Fencers Program is meant to be a fun and safe environment where young children can learn to love the sport of fencing.
Coach Natasha Maximovich has been working with young students for more than 20 years. Coach Natasha vast experience and dedication to teaching and inspiring her students makes the sport of fencing challenging, exciting, and fun for even the youngest learners.
"Coach Natasha is fantastic with the kids," Irina Chirashnya, founder of AFM, explained. "She has been developing and coaching young fencers for years, and with her Ph.D., she is able to apply her theoretical background to her experience and practice with children. She looks at the whole picture, not just the developing fencer."
"My own children started training with Coach Natasha two years ago, while still being in Kindergarten", continued Chirashnya. "Today at 7.5 years old they are well into the sport. From the experience of my own family I can clearly see the great benefits the Little Fencers program provides to young children and their families".
While waiting for their children's fencing class completion parents can enjoy a comfort of the parents' lounge on the second floor with free WiFi and work area cubicles.
AFM's Little Fencers Program is a year-long program with classes on Tuesdays and Thursdays from 5pm - 6pm. Little Fencers can take one class a week for $90/month or both for $130/month. AMF provides all equipment for the little fencers program.
For further information and registration, go to Little Fencers Program webpage.
About Academy of Fencing Masters (AFM):
Academy of Fencing Masters seeks to develop all level of fencers, from beginners to Olympic athletes, through elite coaches, state-of-the-art facilities, and supportive community for both the fencer and family. AFM prepares athletes for fencing and for life.