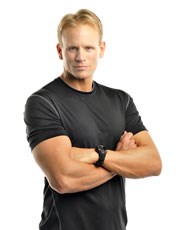 There are many things we cannot control in life; the one thing we can control is how we choose to take care of ourselves.
Salt Lake City, Utah (PRWEB) October 30, 2013
MonaVie Nutrition and Fitness Expert Mark Macdonald has teamed up with Mike Galanos and HLN (Headline News) for a new health-focused segment called "Mike, Mark & Monday — Getting Back in Gear," scheduled to air each Monday at 1:30 p.m. ET.
As News Now host Mike Galanos indicates in this recent segment, "Mike, Mark & Monday" provides timely and relevant health tips to help you "reverse the sins of the weekend" and get back on track with your health.
In his most recent segments with HLN, Macdonald shows how to get ready for Halloween the healthy way and minimize spikes in blood sugar.
View recent segments with Mark Macdonald on HLN

As a nutrition and fitness expert and the New York Times bestselling author of Body Confidence, Macdonald knows what it takes to lose weight the right way and achieve life-long body confidence. He opened the first Venice Nutrition Consulting center in Venice Beach, California, more than a decade ago, and it has since grown to more than 400 centers throughout the U.S. "When proper diet and exercise is leveraged to achieve balanced blood sugar levels, the body is able to consistently release its stored fat, and then that fat gets burned up in your muscle," says Macdonald. "There are many things we cannot control in life; the one thing we can control is how we choose to take care of ourselves."
Tune into Headline News with Mark Macdonald and Mike Galanos Mondays at 1:30 p.m. ET for new health-focused segments designed to start your week off right.
About MonaVie
Since 2005, MonaVie has developed premium products dedicated to promoting health and wellness worldwide. With distribution in more than 20 markets, MonaVie addresses four key areas necessary for optimal health—Nutrition, Weight, Energy, and Stress—with products made from the best and rarest ingredients on Earth. The products, in conjunction with MonaVie VIEW Antioxidant Scanner, empower people to live healthier, more meaningful lives. That greater meaning is revealed through our heartfelt commitment to doing good in the world and by helping children and families in need through the MORE Project. Start living A More Meaningful Life today and discover the true, life-changing power of MonaVie. Learn more at http://www.monavie.com, or connect with us on social media.