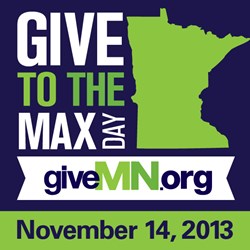 Minneapolis, MN (PRWEB) October 31, 2013
On November 14, 2013, Christians for Biblical Equality (CBE) will participate in Give to the Max Day (GTMD); a Minnesota-based event sponsored by GiveMN that raises money for Minnesota based nonprofit organizations, like CBE.
This is the fifth consecutive year that CBE has been a part of Give to the Max Day. CBE Give to the Max Day coordinator Erin Gillette notes, "We are so excited to be a part of Give to the Max Day this year. It is a great opportunity for CBE's supporters to come together and have a bit of fun while supporting this important ministry."
This year GiveMN will offer several incentives to encourage donor participation in Give to the Max Day. In addition to prize grants up to $10,000 for organizations that raise the most money, GiveMN is offering prize grants in the form of hourly Golden Tickets–hourly drawings to add $1,000 to a donor's gift, randomly selected from donors who gave during each hour of the event. One donor giving to a nonprofit and one donor to a school will be drawn in the evening for a Super-sized Golden Ticket, adding $10,000 to their donations. This allows the donor's contributions to go even further to support CBE. Gillette said, "last year we were able to place 5th among medium non-profits, which earned us an extra $1,000 prize grant. This really is a great way for donors to see their gifts work a little harder."
In its effort to advance a biblical foundation for gift-based rather than gender-based service, CBE sponsors annual conferences, facilitates local chapters, hosts an online book service, and publishes two award-winning journals. For more information, visit http://www.cbeinternational.org.