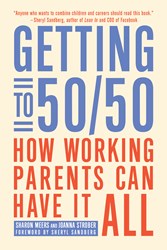 (PRWEB) October 30, 2013
Sharon Meers recently wrote an article for Bookish that featured "Work-Life Balance: 5 Lines to Draw in the Office and Home." In the article, she wrote, "What helped our families get to 50/50 is being upfront about what we're passionate about and what we're not, iterating daily to create space for the good and putting limits on things that get in the way."
Her suggestions include setting time limits for phone use and device usage after work. Part of the motivation for this comes from the fact that "I have been to homes where one parent is glued to an iPad, laptop or phone. What's the message their kids get? "I care enough to be home with you, but not enough to give you my full attention." This is incredibly hard in our always-on world: The compulsion to complete and check in can be really hard to control. I try to motivate myself every day to do better, and set an example I can be proud of. Because, if I don't, our kids can play this game, too. Listening is an act of love—and you can listen better if your brain isn't chattering with someone at work. "Put down your smart phone and pay attention at home" is what I tell myself every day, and when I actually do it, our family is happier."
Sharon Meers and coauthor Joanna Strober will be at the book launch event tonight at Kepler's Books at 7:30 pm in Menlo Park, California. Join them to learn how to really have it all in a work/family balance. Also today, Sharon and Joanna will be taking part in a Wall Street Journal spreecast at 9am PST, where they will answer visitors' questions for both men and women about how to have full family lives and great careers.
Getting to 50/50
How Working Parents Can Have It All
By Sharon Meers and Joanna Strober
Foreword by Sheryl Sandberg
Sharon Meers and Joanna Strober are two working moms who believe that everyone wins when men are full parents and women have full careers. They know that families thrive not in spite of working mothers, but because of them. The key is tapping into your best resource and most powerful ally: your spouse. What's the starting point? An attitude shift that puts you and your husband on the road to 50/50. Here are real-world solutions for parents who want to get ahead in their careers and still get to their children's soccer games; strategies for working mothers facing gender bias in the workplace; advice to fathers new to the home front; and tips for finding 50/50 solutions to deal with issues of money, time and much more.