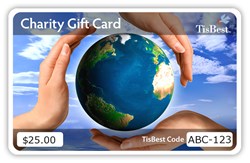 We're very proud of this recognition.
Seattle, WA (PRWEB) October 30, 2013
TisBest Philanthropy has been awarded the Gold-level Exchange Seal by GuideStar, the highest level of recognition available, demonstrating TisBest's commitment to transparency.
GuideStar is a leading independent clearinghouse for information about the nation's nonprofit organizations. The GuideStar Exchange program recognizes 501(c)(3) nonprofit organizations for providing evidence of financial transparency. Organizations that proactively provide GuideStar with financial information are awarded one of three Exchange seals: Bronze, Silver, or Gold. Gold-level nonprofits must provide significant transparency in all areas of their operations, including finance, governance, program results, and strategic planning. Only 1,323 of the nation's more than 1.5 million nonprofit organizations have received GuideStar's Gold level of recognition.
"We're very proud of this recognition," said TisBest Executive Director Jon Siegel. "Our team works hard to provide a terrific donation gift alternative and to support the hundreds of charity partners on the TisBest list. Our tens of thousands of individual and business customers rely on us to be effective and efficient in our programs. This is important recognition for TisBest – and TisBest's many customers."
"The GuideStar Exchange is deeply rooted in recent research that shows that donors, funders, and the public want to know the full story of a nonprofit—not just its financials," GuideStar explains on their website. "The GuideStar Exchange gives nonprofits a chance to tell their own stories, in their own way. It is the only national program that allows nonprofits to supplement the public information that is available from the IRS."
Learn more about the GuideStar Exchange program by visiting the GuideStar website. (link: http://www.guidestar.org/rxg/update-nonprofit-report/index.aspx)
About TisBest Philanthropy
TisBest Philanthropy is a 501(c)(3) nonprofit organization dedicated to fostering the growth of non-material gift-giving. TisBest created charity gift cards in 2007. Charity gift cards work like conventional gift cards, but with one important exception: the recipient of a charity gift card "spends" it by choosing a charity to receive the funds.
With a TisBest Charity Gift Card, you make the donation and your recipient decides how to spend the donation, choosing from TisBest's 300+ charity partners. Learn more at http://www.tisbest.org.
About GuideStar
GuideStar, http://www.guidestar.org, connects people and organizations with information on the programs and finances of more than 1.8 million IRS-recognized nonprofits. GuideStar serves a wide audience inside and outside the nonprofit sector, including individual donors, nonprofit leaders, grantmakers, government officials, academic researchers, and the media.