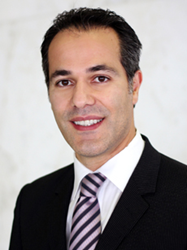 At La Peer Health Systems, we are excited to bring this new method to patients suffering from sinusitis.
Beverly Hills, CA (PRWEB) December 04, 2013
Mani Zadeh, MD, FACS, is the medical director of the Revision Sinus Surgery Center of Excellence, a department of La Peer Health Systems. Dr. Zadeh recently commented on a new study published July 25, 2013, which showed the benefits of non-surgical balloon sinus dilation procedures compared to traditional sinus surgery methods for sufferers of sinusitis. Unlike the older treatment, which opened sinus passageways by cutting and removing tissue, the new non-surgical balloon sinuplasty preserves sinus tissue by opening the sinus passages with an inflatable balloon.
"Balloon dilation offers many advantages over endoscopic surgery," said Dr. Zadeh, who is a board-certified otolaryngologist at the Los Angeles outpatient surgery center. "Not only can the procedure be more effective than endoscopic surgery, but patients have shown to recover faster from balloon dilation treatment."
At the Revision Sinus Surgery Center of Excellence, Dr. Zadeh and his team of expert doctors and surgeons can provide this new and exciting treatment to patients suffering from sinusitis. This condition is estimated to affect 37 million Americans a year, occurs when sinus passageways become blocked. Fluid and bacteria can grow in these blocked passages, causing infection and inflammation. Traditionally, surgical treatment for chronic sinusitis sufferers involved a cutting of the sinus passageways. With the balloon dilation method, however, no tissue is cut or removed; instead, a small balloon is inserted into the nose, temporarily inflated, then deflated and removed from the nasal passageway. Results show how the balloon dilation method is vastly superior to the older method, called endoscopic surgery.
In the study, 98 percent of patients who underwent balloon dilation did not require follow-up treatment. Sinusitis symptoms and patient recovery time were found to be just as effective, and sometimes better, than in patients who were treated with the traditional treatment methods.
"At La Peer Health Systems, we are excited to bring this new method to patients suffering from sinusitis," said Dr. Zadeh. "With the new balloon dilation method of sinus surgery, patients can experience a procedure that is safer, more effective, and less intrusive than ever before."
In addition, patients treated with the balloon dilation method experience fewer post-procedure debridements—foreign matter and dead tissue removed from a wound—than patients who undergo traditional endoscopic surgery, giving a significant advantage to balloon dilation method. Patients treated with balloon dilation also experience less nasal bleeding, quicker recovery time, and more symptom improvements than patients treated with endoscopic surgery.
Dr. Zadeh is a board-certified otolaryngoloist-head and neck surgeon at La Peer Health Systems. In addition to being the medical director at the Revision Sinus Surgery Center of Excellence, Dr. Zadeh also has a private practice in Los Angeles.
La Peer Health Systems is an outpatient surgery center in Beverly Hills, founded by doctors and focused on providing excellent patient care alongside the most cutting-edge medical treatments available. With 50 world-renowned physicians in 14 specialties, comprehensive medical treatment is offered that takes patients from consultation to diagnosis, treatment, surgery, and ultimately aftercare. The 14 medical departments include orthopedics & sports medicine, gastroenterology, head & neck surgery, colorectal & general surgery, podiatry, ophthalmology, pain management, plastics & reconstructive surgery, gynecology, spine surgery, interventional cardiology, bariatric surgery, thoracic surgery, and anesthesiology. Unlike large hospitals, La Peer's unique structure offers extremely personal care in a safe and controlled environment. More information about La Peer Health Systems can be found at http://www.LaPeerHealth.com.