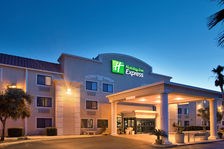 "Our aim is to create an all-around positive experience for our customers."
Tucson, AZ (PRWEB) November 05, 2013
Greenbee Parking, an up and coming airport parking service, has just announced a series of new deals in their latest web upgrades. Ever since their inception they have worked hand in hand with affiliates around the country to improve on traveler experience. The same is true of their presence in Tucson where they have positively contributed to the airport experience for all. With the additional parking options that they are offering here, travelers using the Tucson (TUS) airport will have wider parking opportunities and at very reasonable rates. The new Greenbee deals come with very affordable Tucson long term airport parking (http://www.greenbeeparking.com/ARIZONA/TUS/Long-Term-Parking-TUS/page.html) rates that will offer travelers anything between 30-75% savings than their usual rates.
"Our aim is to create an all-around positive experience for our customers," said Christine Cooper – Marketing Coordinator, Greenbee Parking. "That is why we work in tandem with all to make the Tucson long term airport parking experience an incredibly comfortable one. Our web upgrades showcase the latest offers from time to time."
Tucson International Airport Parking Information
Tucson International Airport is civil-military airport and the second busiest airport in the state of Arizona. It had the distinction of hosting the first municipal airport in the US in 1919 and as a result boasts of a rich aviation history. It is located strategically close to the central business district of Tucson, the Interstate 10 and the I-19, which is the gateway to Mexico. It has seen around 1,779,679 enplanements in the year 2011. The airport serves around 3.6 million passengers annually and is one of the major contributors of business and employment to the economy of the region. It is estimated that approximate $3.2 billion revenue is generated through the airport here and leads to over 35,000 jobs for the people residing here. Apart from supporting the local economy the airport is also known for its excellent customer service and pleasant traveler experiences.
Along with public transportation's like the Sun Tran there are also private players like Greenbee Airport who have added to travel and parking options and aided in the TUS experience. Greenbee Parking's latest web updates has announced multiple options and affordable Tucson long term airport parking rates, that will offer mega savings options for both long and short term customers.
The Greenbee Airport Parking Solution
Greenbeeparking.com is the connection between consumers and parking vacancies in close proximity to major airports and seaports. The parking spaces are very affordable because the company has negotiated discounted rates with major hotel chains for the parking spaces that are not currently occupied. Here's how it works.
Greenbee Parking puts the available inventory of parking spaces on their website to be reserved by business and leisure travelers looking for cheap airport parking. This alternative method for finding parking equates to significant savings for the traveler. You can learn more about their offers from (http://www.youtube.com/watch?v=WWLybHNYjYQ) or via the web at (http://www.greenbeeparking.com).
About Greenbee Parking
Greenbee Parking is the nation's most innovative long term parking company, with a new way of making long term parking affordable. The company is rapidly adding new airports to its network.