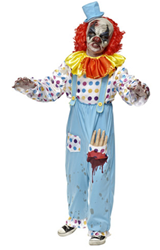 San Jose, CA (PRWEB) October 30, 2013
GroundCntrl, a real-time mobile data and analytics platform, released data today which shows how big-box retailers and pop-ups vary in their approach to attracting Halloween shoppers during the final weekend before the holiday.
GroundCntrl used a mobile data and analytics platform with on-the-ground researchers to monitor real-time products on shelf, with prices and photographs from retailers like Walmart, Target, CVS, Walgreens, and Halloween pop-ups in order to identify early trends in shopper experience and behavior. Stores were surveyed in four major cities this weekend including Boston, Chicago, LA, and San Antonio. The findings were:

Big-box retailers and pop-ups varied in their approach to attracting Halloween shoppers during this final shopping weekend.
Major retailers played it safe in their in-store promotions with 35% of promotions going to the Superhero category for the best looking costumes according to our shoppers.
The major difference between retailers and pop-ups was the focus pop-ups put on non-traditional costumes.
To attract both an older crowd, and those looking for more individuality, Superhero costumes only took 6% of the pie in pop-up stores in terms of original and noteworthy costumes. Instead, a full 38% of attention went to a long-tail category of non-traditional costumes when looking for an individual Halloween expression.
In terms of cost, only 15% of costumes in our retail survey were above the $50 mark.
The lion's share of costumes fell within a more reasonable $20 to $30 range, and 72% were $30 and under.
"Possibly trying to differentiate themselves from the big-box retailers, pop-up stores instead focused their promotion on the strange, funny and niche," said Richard Mandeberg, co-founder and CEO of GroundCntrl. "A full 38% of most creative costumes in pop-up stores fell into the "Other" category, aiming to fill the long-tail needs of shoppers who want to step outside of the norm this season."
The full article with data charts and sample pictures can be seen here: http://wp.me/p2JDeA-4E
About GroundCntrl
GroundCntrl (https://www.groundcntrl.com) is a real-time mobile data and analytics platform that enables retailers, consumer product companies, and marketing agencies to more effectively conduct field audits and competitive intelligence, monitor and optimize in-store marketing programs, and track promotional compliance. The platform includes a mobile task management application (iOS and Android), Web-based program management dashboards, a searchable visual database, on-demand reporting, and analytics. Both the mobile app and management dashboards can be custom branded. GroundCntrl delivers actionable data for optimizing program ROI and sales.