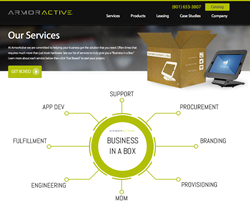 If we can't find a way as a company to either save you money, or make you money by implementing a tablet strategy for your business, then we're not doing our job,
Salt Lake City, UT (PRWEB) October 30, 2013
As tablet kiosks quickly replace legacy kiosk systems, reliability and quality has been improved, yet simple problems such as software glitches and faulty power cables still prevail. ArmorActive has responded to these problems by investing in services to build and support more reliable tablet kiosk solutions in the marketplace.
ArmorActive's list of services begins with app development, because every tablet-based project starts with an app. Working with the range from single-purpose to complex projects, ArmorActive provides custom app development and/or provisioning a client's app across any size deployment of devices. Additionally, ArmorActive can configure a specific profile and set of apps on each device, saving client's significant time prior to installing the devices in the field.
Every tablet kiosk project also requires the procurement of tablets, and often times additional peripherals. ArmorActive now builds into a tablet kiosk order the procurement of all the necessary components, no matter how complex or large the project.
"If we can't find a way as a company to either save you money, or make you money by implementing a tablet strategy for your business, then we're not doing our job," said ArmorActive CEO, Scott Paul.
Once the kiosks have been deployed into the field, ArmorActive provides install teams nationwide to ensure the kiosks are setup correctly, wherever they need to go. Following the install, ArmorActive's support staff can also provide 24/7/365 tech support over the phone, and onsite if needed. With Mobile Device Management (MDM) technology, most of the device support can continually be maintained remotely from one central location.
Another major part of ArmorActive's full service approach is to offer leasing as an alternative to making a large purchase up front. Many businesses benefit from this program because it minimizes up front costs, preserves lines of credit, and maximizes budgets. Also, because leased assets do not depreciate over time, the payments can often be written off completely under certain tax codes.
Combining many of these kiosk services, ArmorActive now offers a few select "business in a box" solutions. These solutions bundle some their most popular products together to fulfill essential business needs like collecting feedback from customers and providing receptionist services. Purchasing these "boxed" solutions is less expensive than purchasing the same individual products and services separately. Each of ArmorActive's business in a box solutions are designed to streamline one or more aspects of doing business, while increasing the bottom line.
To more effectively communicate the availability and scope of their services, ArmorActive also recently launched a redesigned website. The new site is optimized for ease of use and reveals their new services, leasing options, custom product capabilities, and "business in a box" solutions.
In order to support the expansion of ArmorActive's services, ArmorActive also recently moved into a larger office and warehouse facility. The extra room provides the capacity to bring in additional manufacturing equipment for rapid prototyping and extra office space for expanding their workforce. The new location is strategically located near the TRAX light rail system, which quickly connects with the Salt Lake International Airport and downtown Salt Lake City areas.
ArmorActive's services, leasing, custom solutions, larger facility, and new website will further their mission to provide the best tablet kiosk solutions on the market. ArmorActive continues to build on a company culture that promotes an economy of ideas and networking with strong partnerships.
To learn more about ArmorActive and their mission watch this video: https://www.youtube.com/watch?feature=player_embedded&v=xVXMLrsJTOg
About ArmorActive
ArmorActive, Inc. is an enterprise-level tablet solutions company, providing hardware, software, and mobile applications to customers worldwide. Our team of experts is comprised of some of the most intuitive minds in the nation, which enables us to constantly engineer the highest quality products and provide the best customer service in the industry.