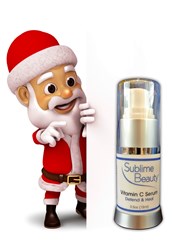 There is so much research over the years about the effectiveness of Vitamin C for our skin. - Kathy Heshelow, founder of Sublime Beauty®
St. Petersburg, FL (PRWEB) November 01, 2013
Vitamin C can fight "free radicals" effectively, helping to keep skin more youthful. The new Vitamin C Serum from Sublime Beauty®, made in a high quality FDA-certified lab, is now on sale.
"There is so much research over the years about the effectiveness of Vitamin C for our skin," says Kathy Heshelow, founder of Sublime Beauty®. "We discuss this in our product report sent to every purchaser of the Vitamin C serum."
The serum can be used in conjunction with day and night creams, and other serums. It blends absorbs wells, and can be used once or twice daily.
The serum is also part of a new Sublime Beauty® Serum travel pack. The pack includes the popular Collagen Peptide Serum, Hyaluronic Serum, Retinol Serum and the Vitamin C Serum. "The high quality travel pack holds these great serums which will help improve skin in a matter of weeks," says Heshelow, "and will be available shortly."
The Vitamin C serum is available now and on sale through Amazon.