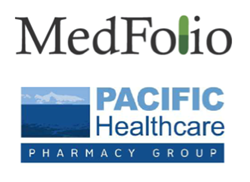 This cloud-based system gives us an automated way to ensure good medication management. And the electronic pillbox makes it even easier. It's a big solution for healthcare.
Burlingame and Los Angeles, CA (PRWEB) October 30, 2013
Doctors, patients and caregivers can now better manage patient medication via Cloud-based, digital device system that reduces errors, lowers cost, and increases patient health.
Pacific Healthcare Pharmacy Group and medical technology company MedFolio, LLC have partnered to create the digital medication management program. The new system is composed of an electronic, wireless pillbox, a doctor-supervised medication delivery and management program, and a secure, Cloud-based notification system.
This new system fills a growing need in American healthcare: medication management. Many patients do not properly take their medication, research shows. Indeed, up to 50 percent of medications are not taken as prescribed, and as much as 30 percent of prescriptions are never filled.
As a result, health often deteriorates and patients end up back in the hospital. The cost to American taxpayers is high: Failure to manage patient medication costs the U.S. an extra $100 to $289 billion every year.
The new system is already helping doctors such as Nicholas Jauregi, medical director of the Wellness and Supportive Care Medical Group. The system, he says, achieves a "triple aim": improves quality, increases patient health and satisfaction and reduces cost.
"In palliative medicine, we see patients who are the most fragile, the most ill. They can take upwards of 10 medications; it can be a nightmare to manage," said Jauregi, whose center serves patients in Los Angeles and Orange County.
"This cloud-based system gives us an automated way to ensure good medication management. And the electronic pillbox makes it even easier. It's a big solution for healthcare."
Here's how the system works: Each month, Pacific Healthcare fills patient prescriptions, inserts the medication into MedFolio's electronic pillbox, and delivers the pillbox to patients. The electronic pillbox, which was invented by a pharmacist, can be programmed to beep and light up when the patient is scheduled to take medication. The patient or caregiver must press a button on the device to turn off the alerts.
The device connects to a computer via USB and a secure cloud database which tracks in real time whether a patient has taken his or her medication. Alerts are sent by text message and email. Doctors and family members can go online and see whether their patients have taken their medication on time and in the correct dosage.
The electronic pillbox and cloud database complement Pacific Healthcare's Web-based pharmacy application, which enables prescription orders, bill access and medication records.
"The electronic pillbox and the Cloud-based system closes the loop for us. Now we have a complete turnkey solution for medication compliance," said Stannon Reed, president of Pacific Healthcare Pharmacy Group, which works with more than 60 doctors and helps manage medication for about 6,000 patients, primarily in California.
Julie Fulmer-Mason, the pharmacist who invented the electronic wireless pillbox, added that the partnership means that medication management is easier, more convenient, and more accurate for patients.
"We have always been dedicated to providing patients and their families the best tools to effectively manage their medications at home," said Fulmer-Mason, president of MedFolio.
"Now, with Pacific Healthcare offering medication dispensing and delivery services for the MedFolio Pillbox, our customers can enjoy the convenience of prefilled, accurate pillboxes arriving on their doorsteps once a month."
For more information about MedFolio, the Pacific Healthcare Pharmacy Group, and the integrated medication management program, go to http://www.medfoliopillbox.com/fill-and-refill-prescriptions/.
About MedFolio, LLC
MedFolio, LLC is a medical technology firm based in the San Francisco Bay Area. Founded by a veteran pharmacist in response to the need for tools that aid in medication adherence, MedFolio launched the award-winning MedFolio Electronic Pillbox in 2011 to an overwhelmingly positive response. The device won top honors at the 2011 New Product and Technology Awards and is available from Amazon, SkyMall, & QVC, among other retailers. For more information, go to http://www.MedFolioPillbox.com to watch a video and learn more about this innovative pillbox technology.
About Pacific Healthcare Pharmacy Group
The Los Angeles-based Pacific Healthcare Pharmacy Group is composed of pharmacies specializing in long-term care, medication for AIDS, oncology and compounding. PHPG provides fast service and expert care for all prescription needs. For more information, call Stannon Reed, president of PHPG, at (800) 626-0563.