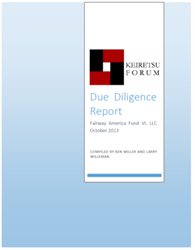 "...this is a well-run, competently managed organization that has a good chance of living up to the expectations they are communicating in their investor materials." - Larry Willeman, Due Diligence Team Co-Lead
Portland, Oregon (PRWEB) October 31, 2013
Fairway America's ("Fairway") CEO Matt Burk recently presented Fairway America Fund VI (the "Fund") at Keiretsu Forum ("Keiretsu"), the world's largest angel investor network with over 1,100 accredited investor members throughout 27 chapters on three continents. Fairway presented at seven of the Keiretsu chapters throughout Northern California and the Pacific Northwest, including Vancouver BC in late May and early June. Companies who present at Keiretsu are placed through a rigorous and extensive due diligence process performed on a volunteer basis by chapter members for the benefit of other chapter members as potential investors.
Following the presentation Fairway spent several months meeting and talking with Keiretsu's due diligence leaders and supporting cast, discussing prior performance of earlier Fairway funds, operational procedures, and financial assumptions and projections, and providing extensive information, including references, to the diligence team. After a lengthy and time consuming process, the final due diligence report has been completed and is available upon request to qualified prospective investors who can verify their accredited status.
The diversity of Keiretsu members helps provide an excellent due diligence product as there are virtually always members who can participate on the diligence team are very familiar with the presenting company's industry. In Fairway's case, Keiretsu Portland member Larry Willeman led the due diligence team along with San Francisco member Ken Miller, who visited Fairway's Portland offices in August and spent time with Burk and the Fairway team. "I have a long background in real estate lending and have been involved in a market similar to Fairway's for many years," said Miller. "I'm very impressed with Fairway's origination model and with management's skill and experience assessing and closing commercial real estate loans."
Willeman's background and training as a CFO made him especially interested in the historical performance of Fairway's five previous funds and how that translated to the opportunity in Fairway's latest Fund. "I reviewed the projections and underlying assumptions for the detailed financial model used to project returns for Fund VI. The logic in the financial model fits together and demonstrates their understanding of the inter-relationship of the variables that determine financial results in this type of venture," said Willeman. "Matt and Lance (Pederson, Fairway's COO) were able to clearly explain each of the assumptions, which I felt were very reasonable and even somewhat conservative."
Keiretsu's diligence report contains extensive information concerning Miller and Willeman's conclusions about Fairway's historical performance, operational controls, strength of management team, and overall business model. In Willeman's summary conclusion, he states "...this is a well-run, competently managed organization that has a good chance of living up to the expectations they are communicating in their investor materials. The team is experienced with a demonstrated track record and has the tenaciousness needed to work through market cycles. My recommendation is to seriously consider this investment if the risk-return and liquidity characteristics meet your investment objectives."
About Fairway America
Fairway America, LLC is a long-time real estate lender, fund manager and boutique real estate finance advisory firm. Fairway America Management Group is the manager of Fairway America Fund VI, LLC, making creative small balance real estate investments nationwide. Fund VI accepts only verifiable accredited US investors and qualified foreign investors. Fairway's past performance is not necessarily indicative of future results. Fairway makes no guarantees, promises, representations, or warranties regarding the future performance of the Fund. To learn more about Fairway America, visit http://www.fairwayamerica.com.
About Keiretsu Forum
Keiretsu Forum is a global investment community of accredited private equity angel investors, venture capitalists and corporate/institutional investors. Keiretsu Forum was founded in the San Francisco East Bay in California in 2000 by Randy Williams. They are a worldwide network of capital, resources and deal flow with 27 chapters on 3 continents. Keiretsu Forum members invest in high-quality, diverse investment opportunities. For more information, visit http://www.keiretsuforum.com.