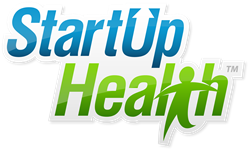 There's never been a better opportunity for digital health innovators and we are inspired to see the best entrepreneurs of our time focusing on transforming healthcare.
New York, N.Y. (PRWEB) October 30, 2013
StartUp Health, a global startup platform accelerating digital health and wellness innovation, today announced that portfolio company Avado, a developer of cloud based patient relationship management (PRM) solutions, was acquired by leading health information provider WebMD. This is the second StartUp Health company acquired in the past three months.
Avado's technology is one of the key elements that will complete the role of patient relationship management connectivity offering for WebMD customers. Avado, Inc., was founded in 2010, by Dave Chase, Bassam Saliba and John Yii, three Healthcare Transformers improving health outcomes through better communication between patients, families and their care team.
"It has been an honor to partner with Dave, Bassam and John during their tenure as Healthcare Transformers in StartUp Health," said Unity Stoakes, president and co-founder of StartUp Health. "The entire Avado team worked incredibly hard on developing an innovative patient relationship management technology with the goal of improving patient outcomes. They are extraordinary entrepreneurs and we are excited to see this technology blossom at WebMD, one of the most trusted brands in the U.S."
StartUp Health is the only long-term academy designed to help digital health entrepreneurs build and scale at multiple stages of growth. Its unique global startup platform supports companies like Avado that are focused on making a transformative impact on the future of health and wellness. There are currently 46 innovative digital health companies in StartUp Health Academy who have have raised more than $100 million combined.
"There's never been a better opportunity for digital health innovators and we are inspired to see the best entrepreneurs of our time focusing on transforming healthcare," finished Stoakes.
Another StartUp Health company Arpeggi was acquired in August by Gene by Gene, making it one of the world's leading genetic testing and genome diagnostics company.
StartUp Health Stats as of October 2013
· Total Companies: 46
· Total Capital Raised to Date: More than $100 Million
· International Companies: 4 (Brazil, Ireland, Israel, Spain)
· Physician/Practitioner Founders: 15
· Serial Entrepreneurs: 16
· Women Founders: 11
· Seed Accelerator Grads: 13
· Sub-sector Focus: Advocacy; Aging; Behavior Change; Big Data; Brain Health; Care Coordination; Care Planning; Chronic Disease; Concierge Medicine; Diagnostics; Fitness; Genomics; Hands-free Medical Care; Home Health; Med Research Services; Medicine Adherence; Mobile Health; Neurotherapy; Nutritional Analysis; Patient Engagement; Patient Relationship Management; Physician Engagement; Physician Networks; Price Transparency; Social Health Content; Sensors and Tracking; Telehealth; Wellness
· StartUp Health invites between 10 to 15 companies each quarter to join its exclusive three-year entrepreneurship program.
About StartUp Health
Startup Health, a global startup platform accelerating health and wellness innovation, represents a new model for helping entrepreneurs succeed in the health sector. StartUp Health is on a mission to inspire, educate, and provide access for 1,000 digital health startups to reimagine and transform healthcare by 2020. The StartUp Health platform includes the StartUp Health Academy, the StartUp Health Network and the StartUp Health Innovation Fund. StartUp Health was founded by health tech entrepreneurs Steven Krein and Unity Stoakes and is chaired by former Time Warner CEO, Jerry Levin. The organization's investors include leading health, technology, and business minds: Mark Cuban, Esther Dyson, Roger Ehrenberg, Brad Feld, Richard Forman, Jason Finger, Linda Holliday, Jon Kaplan, Howard Krein, MD, PhD, Jon Miller, Jeff Stewart and Wayne Kimmel. Learn more and apply at startuphealth.com and follow @startuphealth.