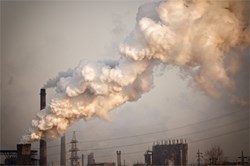 The air we breathe has become polluted with a mixture of cancer-causing substances. - Dr. Kurt Straif
(PRWEB) October 31, 2013
The International Agency for Research on Cancer (IARC) has officially announced that outdoor air pollution is responsible for causing increased cases of lung cancer in people all over the world. As the specialized cancer agency of the World Health Organization (WHO), the IARC reviewed thousands of studies on air pollution, tracking diverse populations over decades to carefully come to a concrete determination before publishing their findings in their press release.
While past studies have determined that specific chemical air pollutants are carcinogenic, this is the first time that general outdoor air pollution has been put under the microscope and the conclusion is unsettling. The common everyday haze and smog in our cities is now considered a major human health hazard and has been deemed the most widespread environmental carcinogen on the planet. "The air we breathe has become polluted with a mixture of cancer-causing substances," says Dr. Kurt Straif, Head of the IARC Monographs Section. "We consider this to be the most important environmental carcinogen, more so than passive smoking." The IARC estimates that in 2010, more than 223,000 lung cancer deaths worldwide resulted from air pollution, which has also been linked to bladder cancer and heart disease.
Some people may take comfort in the fact that they spend the majority of their time indoors; however the United States Environmental Protection Agency (EPA) states that indoor air pollution levels can be 2 to 5 times higher than outdoors – and occasionally up to 100 times worse! Sources of indoor pollution can come from oil, gas, kerosene, coal, paint, heating systems, and the offgassing of millions of different consumer products. Opening the window to allow air circulation may not necessarily help as it only serves to mix the toxic brews of indoor and outdoor air pollution. There is a better solution.
Home air purifiers are filtration systems designed to remove a wide range of outdoor and indoor air pollutants. Performance varies by system, but quality manufacturers will normally offer units with both HEPA-grade filters for particulate filtration and specially treated carbon to remove gases, chemicals and formaldehyde. As a systems engineer at APEC Water, an American company that specializes in water and air purification technologies, Henry Truong is often asked about the effectiveness of air purifiers used for the home. "To properly treat the complex mixture of chemicals and nanoparticles present in the modern home, air purifiers should have a minimum of 50 sq ft of HEPA plus 10 to 15 pounds of carbon media," says Truong. "Unfortunately, few air purifiers in the market meet these specifications. We often see the same problems in the water industry, where basic water filters cannot remove carcinogens like arsenic, chromium and radon."
There should be no compromise on quality when it comes to purifying the air and water in people's homes. "At APEC, we offer only the highest quality air purifiers and reverse osmosis water filters which will provide comprehensive protection from a wide range of environmental contaminants," says Truong. "The difference in price between a basic and advanced filtration system becomes negligible over time, while the health benefits greatly increases. It truly is the best investment you can make for your health and family."
About APEC Water
For over 17 years, APEC has been an industry leading provider of residential and commercial home purification systems. Based out of Southern California, APEC offers high quality air purification systems along with their signature reverse osmosis drinking water systems and backwashing whole house water filters. The company offers their products exclusively through their website at Freedrinkingwater.com which also provides extensive information on environmental water and air pollution through their online library. To learn more about APEC Water, please visit http://www.freedrinkingwater.com or call 1-800-880-4808 for more information.