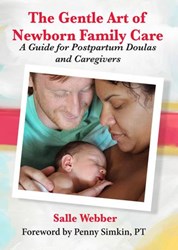 New motherhood does not have to be so stressful.
Amarillo, Texas (PRWEB) October 31, 2013
For new families, the birth of a baby is only the beginning. But for many new parents, postpartum is stressful, and many new families do not know how to manage their first few weeks of parenthood. Taking care of new families is what postpartum doulas, like author Salle Webber, do so well.
According to Salle Webber's new book, The Gentle Art of Newborn Family care, the care of the mother includes nurturing her physical and mental health, including baby blues, postpartum depression, breastfeeding problems, caesarean section assistance, basic physical care and a host of other issues.
One of the most neglected part of pregnancy, labor and delivery, postpartum care does not have to be so difficult if family members and doulas (professional birth or postpartum supporter) are educated with basic tips.
The Gentle Art of Family Newborn Care provides family members and doulas the tools necessary to provide new mothers with postpartum care, address mother's emotional needs, offer guidance on infant nutrition, care and management of breastfeeding. It is essential reading for anyone who cares for young families.
Salle Webber has been a postpartum doula for since 1988. She has supported over 200 families and has trained and mentored other women in their journey to become professional doulas.
The Gentle Art of Newborn Family Care is published by Praeclarus Press, a small press specializing in women's health. Praeclarus publishes books, e-books and other materials that help people live healthier lives.
ISBN-10: 0985418001
ISBN-13: 978-0985418007