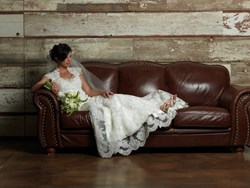 I have been to lots of stores. Some of them made me feel like I was buying a car, not a dress. others were pushy and rude, but at Danielle's they were great!
Salt Lake City, UT (PRWEB) October 31, 2013
Danielle's Bridal, a Salt Lake City Bridal Shop has proven to be one of Utah's premier bridal shops by having another 5 star year. Danielle's Bridal has maintained 5 star ratings for over 2 decades.
Buying a wedding gown is a key part of a bride's wedding experience. When a bride is shopping for her dress, she wants a memorable experience and an amazing dress. Danielle's Bridal understands the desires of a bride. They have spent the past 25 years perfecting an unforgettable bridal shop experience.
When a bride walks in to a bridal shop she deserves to be greeted immediately by an experienced consultant who can help her with her needs. She deserves a wedding gown professional who will listen to her desires and give needed suggestions. Each Danielle's Bridal consultant is kind, outgoing and has tailoring experience. These talented wedding gown consultants give every bride the experience she deserves.
Salt Lake Wedding Reviews has named Danielle's Bridal, Utah's Bridal shop of the month. Tom Swayt from SaltLakeWeddingReviews.com said… "Danielle's Bridal is one of our favorite bridal shops. Brides not only receive a warm welcome but they receive personal, one on one service throughout the entire experience. Brides appreciate that they can have this type of an experience at an affordable price."
Brides have expressed that most bridal shops try to get you to buy a dress that you can't afford. The last thing a bride wants to face is a "wedding gown salesman". The goal of Danielle's Bridal is to make brides happy. This includes helping them stay within their budget.
Danielle's Bridal is located in Holladay, a suburb of Salt Lake City, Utah. Store hours are Monday through Friday from noon to 6 p.m. and Saturday from 10 a.m. to 5 p.m. Walk-ins are welcome. If you are getting married and need a wedding gown, call or visit Danielle's Bridal.
Danielle's Bridal is in their 26th year of business. They have maintained 5 star ratings from their customers for their entire business life. Danielle's is currently owned by Janet Larson who resides in Salt Lake City, Utah.