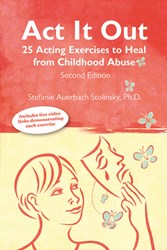 Abuse survivors can overcome the legacy of childhood abuse
Amarillo, Texas (PRWEB) October 31, 2013
Childhood physical, sexual or emotional abuse can cause long-term harm, often lasting well into adulthood, according to author and psychotherapist, Stefanie Stolinsky. Depression is a common symptom of past abuse. October is National Depression Awareness month. Other negative effects of childhood abuse include depression, post traumatic stress disorder, substance abuse and anxiety. Abuse survivors are also at higher risk for physical health problems, such as diabetes and heart disease. These effects do not simply "go away" as children mature.
The good news is that adults can heal from trauma and abuse they experienced in childhood.
Act It Out: 25 Acting Exercises to Heal from Childhood Abuse is a self-help book published by Praeclarus Press, which guides readers through a series of exercises that actors use. Each exercise is linked to short video with actors demonstrating it. Author Stefanie Stolinsky, a psychotherapist and former actress based in Southern California, began incorporating acting exercises into her psychotherapy sessions when she noticed that many of her clients presented the same kinds of complaints actors did in drama classes. Her clients had difficulties feeling and releasing emotions, such as sadness, weakness, or fear. They often relied on alcohol or drugs to help them cry in a scene or "feel"; playing "at it" or faking it rather than really feeling it. They were often afraid that releasing true emotions because they believed that they would be dangerous. They held back or experienced stage fright. They felt embarrassed, fearful of revealing themselves, and shame.
Because of these striking similarities, she began incorporating acting exercises into her therapy sessions. If acting exercises can help actors get unblocked, perhaps they could also help her clients get "unblocked" and start healing.
Acting exercises in therapy allow clients to have total control over what they are experiencing. If things are too painful, they have permission to pull themselves out of the exercise. The acting exercises are also fun. They give clients a chance to "play" while also addressing some of the serious issues in their lives. Acting exercises are a natural adjunct to traditional therapy that also works well as a self-help technique. Dr. Stolinsky guides readers through the exercises and provides examples of how clients benefited from each one.
According to Dr. Trudy Moss,
Act It Out offers the reader an opportunity to travel beyond an intellectual understanding of his or her struggle to become a more integrated, self-loving person. Written with compassion and respect, Act It Out invites the reader to privately begin to release old sensations of shame and self-doubt… Act It Out leads its readers safely into that place of self-healing where the light of emotional release forever illumines the dark corners of the cave. Unconscious fears that have imprisoned victims' capacity for fully realizing their own potential will be scattered, and readers will reap the benefits of their inspiring acts of courage.
Stefanie Stolinsky, Ph.D. is a clinical and forensic psychologist who has a private practice in Beverly Hills, California. She began her career at UCLA, where she did original research on adult women sexually, physically and emotionally abused as children. She is a noted speaker and held training seminars on Overcoming the Aftereffects of Child Abuse. She lives with her husband, David, a retired physician, in Los Angeles.
Act It Out is available through Amazon and at Praeclarus Press. Praeclarus Press is a small press specializing in women's health. It is owned by health psychologist Kathleen Kendall-Tackett and is based in Amarillo, Texas.