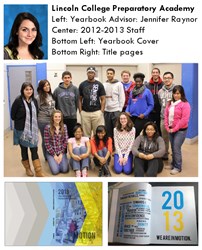 "The 2013 Lincolnian was a huge success for our school. We are honored to receive these awards."
(PRWEB) October 30, 2013
The Entourage Yearbooks National Yearbook Competition is a nationally sponsored contest judging school yearbooks across the dimensions of creativity, originality, and journalistic relevance. Hundreds of schools enter across all fifty states at the Elementary, Middle School, and very competitive High School level.
This achievement recognizes Lincoln College Preparatory Academy for putting together a notable yearbook at the High School level. Their entry was submitted at the end of June 2013 and was officially awarded on October 16th, 2013. The Lincoln College Preparatory Academy yearbook was selected from hundreds of schools that submitted entries from around the country.
"We weren't sure what we were doing at first, but we knew what we wanted," said Lincoln Prep's Editor-in-Chief Isabella Howard. "Our yearbook is exactly what we were aiming for, and it's amazing to be recognized for all our hard work. Our theme 'In Motion' came from the simple idea that students are always moving, sometimes nonstop. We wanted to capture this movement through a magazine-like style with an emphasis on simplistic typography and smooth lines."
"As a first time advisor, I am so proud of the accomplishments of our team," said Lincoln Prep's Advisor, Jenny Raynor. "In the beginning, none of us had much experience in journalism, but together we learned and I couldn't have been happier with the results. I pushed the staff to create a professional quality yearbook, and that is exactly what they did. I am tremendously thankful for my students who were willing to exceed expectations and our editor who showed leadership and took responsibility with ease. The 2013 Lincolnian was a huge success for our school. We are honored to receive these awards."
As part of the prize package, Entourage Yearbooks has sponsored a yearlong membership to the Columbia Scholastic Press Association (CSPA) for Lincoln College Preparatory Academy. The CSPA is an international student press association, founded in 1925, whose goal is to unite student journalists and faculty advisers at schools and colleges through educational conferences, idea exchanges, textbooks, critiques and award programs.
More about Entourage's National Yearbook Competition:
This is the 4th annual Entourage National Yearbook Competition in recognition of schools with yearbooks created by students and school volunteers. To participate, schools had to submit their yearbook content into categories for overall yearbook, page design, photography, and cover design. With over 800 entries, the 2013 Entourage Yearbooks National Yearbook Competition has proven to be the most competitive to date.
Judging of the contest entries is based on a balanced rating across the dimensions of creativity, originality and journalistic relevance. Schools are judged separately at the Elementary, Middle School and High School levels. The judging committee is composed of both expert yearbook journalists at Entourage and invited yearbook experts from across the industry.
"We're thrilled by the level of achievement seen among this year's competitors and winners. I want to personally wish all the schools who have received an award a well deserved congratulations," said Elias Jo, President of Entourage Yearbooks.
"Lincoln Prep is grateful for Entourage's support throughout the entire project. They gave us a high quality product for an affordable price and for the first time in many years we made a profit from yearbook sales. They made our vision a reality. The published book was even better than I imagined. We couldn't have come this far without Entourage Yearbooks," said Raynor.
Complete yearbook contest results can be found at http://www.entourageyearbooks.com/YearbookContest.asp.
About Entourage Yearbooks:
Founded in 2006, Entourage Yearbooks provides yearbooks to over 3,000 schools across the US and in 18 countries around the world. Entourage's unique collaborative yearbook technologies and industry leading production times has made the company one of the fastest growing in the country, recently recognized by Inc. Magazine as the 17th fastest growing private education company in the US. For more information about Entourage Yearbooks, visit http://www.entourageyearbooks.com.