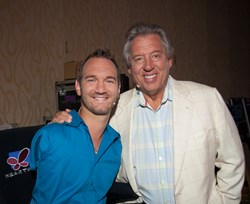 "A leader is one who knows the way, goes the way, and shows the way." – John C. Maxwell
Palm Beach, FL (PRWEB) November 06, 2013
The first-ever John C. Maxwell Leadership Awards Event, featuring John C. Maxwell and internationally acclaimed speaker Nick Vujicic "No Arms, No Legs, No Limits", will take place Friday, February 21, 2014 at the Orlando World Center Marriot. An 8:30 a.m. VIP reception will precede the 9:30 a.m. awards breakfast. Hosted by The John Maxwell Team and benefitting EQUIP®, the event will honor ten individuals/organizations whose achievements, contributions and qualifications have made them outstanding leaders in their profession.
"Everything rises and falls on leadership," says John C. Maxwell, an internationally respected leadership expert, speaker, trainer, coach and author. "There are great leaders in many fields, and this inaugural event will honor those whose specific accomplishments are truly extraordinary and recognized as such." In addition, one leader of the ten honored will also receive a grand award of $25,000.
Nominations for the Leadership Awards open November 1st in the ten categories of Business, Faith-Based, Education, Family/Youth, Government, Health and Wellness, Media, Arts and Entertainment, Sports, and Community Service. John C. Maxwell, members of The John Maxwell Team and a Nominee Review Board of prominent leaders exceptional in their own fields will consider the candidates and make recommendations. Al Weiss, former president Walt Disney World, Ed Bastian, president Delta Airlines, Dr. Antonia Novello, former U.S. Surgeon General, and Jerry Colangelo, chairman U.S. Basketball are but a few of the notables serving on the board.
The John Maxwell Team is offering a variety of sponsorship opportunities for this first-ever event. Sponsors and their guests are invited to attend a VIP reception and enjoy special table seating at the awards breakfast. They will also receive special recognition of their participation, along with other valuable advantages. The generosity of sponsors will benefit EQUIP Leadership, Inc.®, a non-profit, global leadership development organization founded by John C. Maxwell. EQUIP has trained over six million leaders in 185 countries, helping individuals reach their highest potential.
John C. Maxwell's outreach is extraordinary. He is a legendary speaker for Fortune 500 companies such as Delta Airlines, Dupont, Chick-fil-A and Microsoft, foreign governments, the National Football League, the United States Military Academy, and the United Nations. He is the best-selling author of 74 books, with more than 22 million books sold. His online "A Minute with Maxwell" free, daily coaching video messages are streamed to hundreds of thousands of subscribers worldwide. John is also very proud to have established and partnered with The John Maxwell Team, an elite group of more than 3,000 certified coaches, teachers, speakers and professionals located in over 96 different countries, who are truly impacting the lives of people.
To take advantage of the prestigious sponsorship of this very First John C. Maxwell Leadership Awards event, to nominate a leader for an award (nominations open November 1), or to purchase tickets, go to http://www.JohnCMaxwellAwards.com.
Contact:
Paul Martinelli, President, The John Maxwell Team
Info (at) JohnMaxwellTeam (dot) com
Phone: 561-318-0547
FOR IMMEDIATE RELEASE