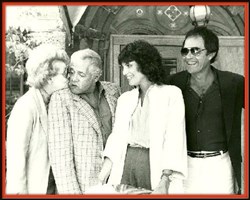 Online auction of personal family memorabilia, handpicked by Lucie Arnaz with a signed letter of authenticity guaranteeing provenance.
(PRWEB) October 31, 2013
Connectibles is excited to announce that you are invited to another celebrity auction of personal entertainment memorabilia belonging to Lucille Ball, Desi Arnaz, their daughter actress Lucie Arnaz and her husband, actor Laurence Luckinbill.
We will be offering the second round of nearly 175 never-before-released Lucy & Desi and Lucie & Larry keepsakes from their personal collections to fans worldwide. Beginning November 3, 2013, an online auction through ebay will be held by Maida & Bill Webster of Connectibles and can be seen at http://www.LucyDesiSale.com.
Each item will come with a signed letter of authenticity from Ms. Arnaz guaranteeing provenance and signatures. This event is a rare opportunity for Lucy/Desi/Lucie/Larry fans to participate in the online auctions and add to their collections.
Auctions will begin November 3rd at 7 p.m. Eastern time, with more items added daily until the entire inventory is online & available for bidding. Each item will be available and run at auction for seven days. Connectibles will be offering a wide range of options at all price levels, for the beginning or advanced collector of theater, film and "I Love Lucy" television memorabilia.
Items of interest include the complete original hand-sewn costume wardrobe that Lucie Arnaz wore in her hit Neil Simon Broadway show "They're Playing Our Song." One of the most unusual offerings are original keepsakes from the 1949 church wedding ceremony of Lucille Ball & Desi Arnaz, including the actual gloves she wore, her garter, and even a small piece of preserved Desi's "groom's cake."
Baseball fans will want to see the Mariano Rivera # 42 Yankee shirt given to Lucie when she was invited to throw out the first pitch at Yankee Stadium. Also included will be Larry Luckinbill memorabilia from his role as Sybok in the movie Star Trek V.
Other items include a luxurious velvet and lace bed jacket belonging to Lucille Ball, original Hollywood scripts, the 1950's wrought iron patio table & chairs used for decades by Lucy, Desi, Lucie & Larry, vintage Broadway theater signed posters & photographs, never before released I LOVE LUCY collectibles and much more.
You can reach the site by going to http://www.Connectibles.net.
Email: maidaweb(at)connectibles(dot)net
Phone: 203 253 1162.