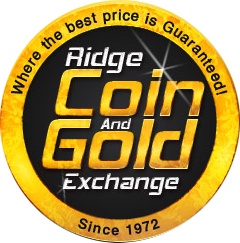 Rochester, NY (PRWEB) October 31, 2013
Ridge Coin has been helping customers sell unwanted gold and jewelry for over 40 years at their East Ridge Road location. Now, they've opened a second store in Henrietta to serve customers on the west side of Rochester, NY.
The new Ridge Coin cash for gold store is located at 945 Jefferson Road across from Sticky Lips BBQ. Customers interested in selling old or unwanted gold, silver, and platinum can visit the new location to get a quote on the value of their jewelry.
Rings, bracelets, necklaces, silver flatware, watches, earrings, diamonds, and coins are all accepted at their new location. With the price of gold and silver still hovering close to historical highs, cashing in on unwanted jewelry is popular heading into the holidays.
"November is a very busy month here," explained John Kolokouris, president of Ridge Coin. "Trading in old jewelry for cash is a popular way to get some extra money for the holiday season, and our prices are the best."
Ridge Coin uses state-of-the-art scales and processors to determine the purity and weight of gold and jewelry quickly and accurately. This ensures they are able to give fair, accurate quotes on how much gold and jewelry is worth.
For more information, visit their new location at 945 Jefferson Road in Rochester NY, call (585) 234-5678, or visit them online at http://www.RidgeCoin.com.