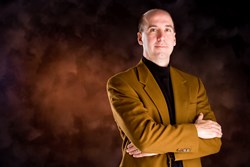 It isn't enough to just understand the ten trends transforming tomorrow, the innovative business leader must be willing to "unlearn" some of his/her most basic assumptions about their industry, their business model and even their customers.
Chicago, IL (PRWEB) October 31, 2013
Following on the heels of successful keynote presentations to Harrisburg, PA chapter of the YPO and the St. Louis chapter of the World Presidents' Organization (WPO), popular keynote speaker, renowned global futurist, technology forecaster and best-selling author, Jack Uldrich has been selected to deliver a keynote talk to the Indianapolis chapter of the YPO. Uldrich will be speaking on "Why Future Trends Demand Unlearning."
The material presented in the two keynotes will be based on a combination of Uldrich's best-selling books, "Jump the Curve; 50 Essential Strategies to Help Your Company Stay Ahead of Emerging Technologies" and his latest book, "Higher Unlearning: 39 Post Requisite Lessons for Achieving a Successful Future." The interactive speech, which has been tailored specifically to the Indianapolis region, is designed to provide local and regional business leaders a solid and thought-provoking foundation upon which to continue creating their own future. An overview of some of Uldrich's ideas can be found in this short video clip, Why the Future of Healthcare Will Require Unlearning, which Uldrich delivered to executives at United Healthcare.
Uldrich will also provide an overview of how technological change is upending long-standing business models and discuss why future trends will demand unlearning. Uldrich, who has been hailed as "America's Chief Unlearning Officer," will conclude his talk by reviewing the negative consequences of not embracing the concept of "unlearning." Throughout his talk, he will use vivid analogies and memorable stories, drawn from a wide spectrum of industries, to ensure his message of unlearning "sticks" with his audience. A sample of some Uldrich's ideas on the future can be found in this chapter, A Tailored Fit: The Future of Retailing, from his latest book, "Foresight 2020: A Futurist Looks Ahead to Ten Trends That Will Shape the Coming Decade."
In the past year, Uldrich has addressed hundreds of business groups around the world, including delivering customized keynote presentations to Eaton, Invensys, United Healthcare, Franklin Templeton, Optus, Bausch and Lomb, the European Association of International Educators and scores of other corporations, associations and organizations.
Parties interested in learning more about Jack Uldrich, his books, his daily blog or his speaking availability are encouraged to visit his website at: http://www.jumpthecurve.net. Media wishing to know more about the event or interviewing Jack Uldrich can contact him directly at 612-267-1212 or jack(at)schoolofunlearning(dot)com.
Uldrich is a renowned global futurist, technology forecaster, best-selling author, editor of the monthly newsletter, The Exponential Executive, and host of the award-winning website, http://www.jumpthecurve.net. He is currently represented by a number of professional speakers' bureaus, including Leading Authorities and Executive Speakers Bureau.