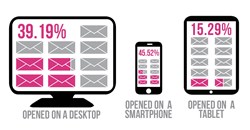 This quarter's report shows that tablets are gaining momentum, quickly becoming a primary driver of email marketing interactions
New York, NY (PRWEB) October 30, 2013
iPad dominates when it comes to brand marketing email opens on tablets, according to new research from agile email marketing technology provider Movable Ink. The data shows that despite the nearly equal market share between the two, consumers are 15 times more likely to open brand emails on an iPad than on an Android tablet.
The "US Consumer Device Preference Report: Q3 2013" reveals that mobile devices continue to lead desktops in email opens, with nearly two-thirds (61%) of all email opens taking place on smartphones and tablets. The iPhone is by far the most popular mobile device to open a brand email on (36%), followed by the iPad (14%), Android phones (9%) and Android tablets (1%).
"This quarter's report shows that tablets are gaining momentum, quickly becoming a primary driver of email marketing interactions," said Vivek Sharma, Co-Founder and Chief Executive Officer of Movable Ink. "This should compel marketers to be innovative with their email marketing campaigns, with a strong focus on engaging mobile users. There is a huge opportunity to provide these users with offers that are as relevant as possible to where they are and what device they are using."
The report offers a close look into the current popularity of various devices, reveals differences in consumer behavior and engagement based on the devices they use, and provides a look into how device preferences vary by geographic location. Unlike other studies, this data set exclusively includes results from large, enterprise B2C marketers.
Key findings include:

Mobile devices continue to dominate desktops. This quarter, 61% of emails were opened on either a smartphone or tablet device, with mobile devices continuing to maintain a stronghold against desktops, which accounted for just 39% of total email opens this quarter.
Tablets take an upturn. Over 15% of emails were opened on a tablet, up from just under 14% in Q2 2013. iPad use grew 10% over the last quarter, and now accounts for 14.3% of total email opens. Although Android tablets now comprise only 0.9% of total email opens, this number has grown nearly 27% from the prior quarter (up from 0.7% of total email opens in Q2 2013).
iOS holds steady over Android. The iPhone continues to reign as the most popular smartphone used for checking email, representing 35.8% of total email opens. Android phones accounted for 9.4% of total email opens this quarter, showing a slight increase from 9.3% in Q2 2013.
Android users spend the most time viewing emails. Consistent with Q2 findings, Android users spend more time viewing emails when they are opened – 53% spend 15 seconds or more viewing each message, compared to just 41% of iPhone users.
Desktops lead in the West, while the East trends towards smartphone use. Texas is the most smartphone friendly state, with over 53% of emails opened on a smartphone. On the whole, the majority of the East and South prefer using smartphones for email. In the Central and Western parts of the country, desktops prevail, with the exception of California.
The full report is available as an e download here.
###
About the Movable Ink US Consumer Device Preference Report
The US Consumer Device Preference Report: Q3 2013 is based on data collected through Movable Ink's Agile Email Marketing platform between July 1 and September 30, 2013. The data reflects aggregate statistics across Movable Ink's customer base, which includes more than 100 enterprise B2C marketers from the retail, travel, financial, media, and telecommunications industries. Because determining email opens requires images to load, the percentages for some devices and platforms might be over or underrepresented.
About Movable Ink
Movable Ink is the leading provider of Agile Email Marketing technology. Since the channel's inception, email has been frozen in time when a marketer hits the "Send" button. With Agile Email Marketing from Movable Ink, email can now be dynamically updated in real-time based on each recipient's time, location, device, and social context at the moment of open. Hundreds of innovative brands such as American Eagle Outfitters, Seamless, Lilly Pulitzer, and Finish Line use Movable Ink to enhance customer engagement and increase marketing ROI. The company is based in New York City and is backed by Intel Capital, Contour Venture Partners, Metamorphic Ventures, ff Ventures, Kima Ventures and email veterans such as Bob Pittman, Andy Russell, Josh Baer, and Alan Laifer. For more information, visit http://www.movableink.com and http://www.pinterest.com/movableink.