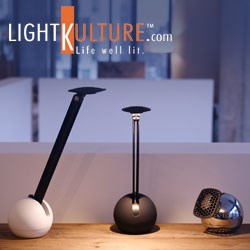 The telescopic tape lines are the source of the precision and agility that define this product.
New York, NY (PRWEB) October 31, 2013
LightKulture.com is pleased to offer Kiu, designed by Hans Nopper. "With the holidays fast approaching, I have found the perfect gift of light in this small yet powerful task light," noted Susan Inderbinen President of LightKulture.com. Designed by German industrial designer Hans Nopper of Cologne, Kiu takes its inspiration from aerospace technology and bionics to create a lightweight, compact task lamp that is as exciting to look at, as it is to use. The patented folding mechanism enables the user to extend the height of the lamp up to 17", all from a 5" metal diecast body. The 4.6 watt dimmable LED is housed in a adjustable rubberized honeycomb shaped heatsink, that can be directed up and down, turned left to right from the rotating base, as well as being moveable closer or farther from the work surface. However the most dramatic aspect of this lamp is the way you can retract the honeycomb shade into the base with the touch of a button. The lamphead will retract by spring force. To stop at any time, simply release the button.
Kiu is imported from Square Walnut, known for importing stylish LED lighting from the Far East. Minimalist designer Hans Nopper has created this brilliant focused light to fit in tight spaces, while providing optimal light, which also includes a built-in one-touch dimmer. Available in soft-touch black, white and chrome, Kiu is a stylish, functional additional to any desk,, nightstand or dorm room.
Kiu is a personal task light. The directional aspect of this lamp allows the user to benefit from having the light on, while anyone else sleeping in the same proximity will not be distracted by the light. Another bonus of using Kiu, is the small footprint it needs to be effective. With computers, keyboards, printers, monitors, fax and copy machines taking up so much space, its nice to add an essential tool like a task lamp without having to sacrifice premium workspace. In addition to being a functional task light, it also adds an element of contemporary design to any environment. Kiu makes a great holiday gift.
For more information go to Kiu: http://www.lightkulture.com/p-2530-kiu-led-table-lamp-iulite.aspx.
Kiu, Compact Designer LED Lighting Makes a Great Holiday gift, Now available from LightKulture.com
"As the holidays are approaching, I have constantly been on the lookout for unique gifts of light. The day our sales rep walked in with the Kiu sample, I thought we found what we were looking for. The telescopic tape lines are the source of the precision and agility that define this product. It is important to mention that the tape lines should never used to adjust the lamp. Simply pull on the rubberized honeycomb lamphead to position the light where you want it. Be careful not to bend the tapline.
All adjustments to the heatsink and the angle of tape-lines should be made at the connector-point just below the shade. Turning the angle of the lamp-foot at the base will enable you to set the angle of the lamp. Our gift assortment will have several price points, yet Kiu is on sale for the holidays at $299", noted Susan.
About LightKulture.com
At LightKulture.com our mission is to offer the finest energy efficient contemporary lighting and light fixtures from around the world. We have assembled an exciting collection of the industries most innovative decorative and architectural lighting. We are proud to offer lighting solutions for both your home and work-life environments. Simplicity in design is complicated, function makes it last. Be inspired by our range of essential designs from well respected American and European manufacturers. In today's world, energy efficient lighting is as important as eco-friendly or green lighting fixtures, such as LED or CFL lighting. We offer the very best energy efficient lighting and light fixtures, both high value LED lighting fixtures and CFL lighting fixtures in modern and contemporary styles that provide quality, innovation and authenticity.
LightKulture.com
http://lightkulture.com
Email: sales(at)lightkulture(dot)com
Tel. 941-330-0422