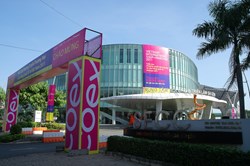 VIETRF is recognized as the only trade exhibition in Retail and Franchise in Vietnam, and in 2012 attracted the most visitors to the SECC center.
Ho Chi Minh City, Vietnam (PRWEB) October 30, 2013
The annual Vietnam Retail and Franchise International Exhibition (VIETRF) opens Thursday October 31st and will run at the Saigon Exhibition and Convention Center until Sunday November 2nd 2013.
VIETRF is recognized as the only trade exhibition in Retail and Franchise in Vietnam, and in 2012, was not only the most successful program of the SECC, but it also attracted the most visitors of any event at the center with over 10,000 buyers and members of the public in attendance.
VIETRF2013 will showcase 300 booths from 150 companies across both Vietnam and 18 countries around the world. The exhibition gathers famous brands from the Vietnam market such as Highlands Coffee , Pho24, Dalat Milk, Tous Les Jours, Baskin Robbins, and Me Trang Coffee. Foreign exhibitors present include businesses from South Korea, Thailand, Singapore, the UK, Australia, and the U.S. Educational and informative seminars relating to franchise regulation and the Vietnam retail market will also take place at the show.
Visitors of VIETRF2013 may also benefit from the concurrent Korea Sourcing Fair taking place at the center. The Korea Sourcing Fair is to display high quality Korean goods including food and beverages, fresh fruit, household items, clothing, jewelry, souvenirs, and electronics. It is hoped that the co-hosting of the Korea Sourcing Fair will make VIETF2013 a truly unique and exclusive experience for buyers.
Companies or individuals interested in franchising, distribution, or new technologies and retail brands, and encouraged no to miss the opportunity to attend VIETF2013. The show is also the perfect platform for expanding networks between foreign and Vietnamese retailers.
Admission to VIETRF is free and buyers are reminded to please bring their business card in order to register. Pre-registration is available on the show website: http://www.vietrf.com. For more information, please contact the Coex office on 08 5416 0154 or email thuydinh.coex(at)gmail(dot)com. The first 3000 people to enter the exhibition on each day of the show will receive an exclusive Everon neck pillow as a free gift.