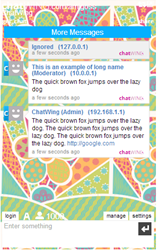 Dallas, TX (PRWEB) November 02, 2013
With the goal of introducing the latest version of its chat widget, Chatwing Company has started reconnecting to bloggers in Xanga. In this newest initiative, the company's developers have reintroduced the virtual coin system to Xanga bloggers. The developers are expecting that the bloggers will gain greater communication advantage through the usage of virtual coins.
The website chat software virtual coins are all about flexibility and dynamics. Instead of purchasing a single service, users can just buy a bulk of coins that they can stash in the dashboard. These coins can be used anytime they want. For every transaction, users can purchase up to 15 coins and they can pay through Paypal or credit cards. In the coming months, Chatwing.com chat software will add more payment schemes.
Xanga bloggers can use the premium services to get the most from the Chatwing chatroom. One of the most popular of these services is the custom subheader. Instead of the default Chatwing subheader, the chatroom owner can post a customized message—increasing the exposure of his product, website, and service. Following that is the removal of the Chatwing logo. Users can choose their own brands to replace the logo. Since branding is essential for any website, this service is important.
Up to date, Chatwing researchers are still waiting for feedbacks from Xanga bloggers. Once the feedbacks are collected, they will be shared in Chatwing's active chatrooms and Facebook page.
About Chatwing.com
Chatwing.com is a company that has brought innovation to the modern chat widget. Operating for more than five years now, Chatwing and its team of developers have dozens of ideas ready to be introduced to the public. The Chatwing chat app is an easy-to-use online tool that can help web users interact with each other and can also generate continuous traffic. Chatwing will always be a "freemium" application for everyone.