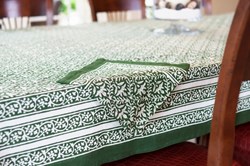 By purchasing Jubilee Traders linens, you join our efforts to change the world for the better.
Fairfax, VA (PRWEB) October 30, 2013
Jubilee Traders' fair trade, hand-block printed table linen collection has expanded to include three new patterns for the holiday season: Cypress Vine, Cardinal Vine, and Wisteria Blossom. The table linens are handcrafted by artisans in a small artisan workshop in Sanganer, outside of Jaipur, India, using a combination of eco-friendly dyeing and traditional block printing techniques.
These 100% cotton tablecloths, napkins, place mats, and table runners are available in 15 versatile and colorful patterns. They are machine washable and maintain their vibrant colors for many years. The designs are exclusive to Jubilee Traders, and each piece is unique and handmade. "Each product represents an artisan who is using their skills to support their families, educate their children, and build toward a future of dignity and hope. By purchasing Jubilee Traders linens, you join our efforts to change the world for the better," said Paul Culler, co-owner.
The line debuted in August at NY NOW, the Market for Home & Lifestyle in the Handmade Global Design section in New York, NY. The linens can be found at retailers across the US.
The art of hand-block printing has existed in Jaipur for generations, and many of the artisans originally belonged to the traditional "chippa," or hand-block printing caste. Jubilee Traders exists to keep the art of hand-block printing alive and was purchased by Paul and Lois Culler in 2012. Since then, they have expanded their customer base and given more work to the artisans in India by refining existing designs and adding more patterns based on demand and tabletop trends.
As members of the Fair Trade Federation of North America (FTF), Jubilee Traders is fully committed to fair trade and has built long-term relationships with the people who make their products. This commitment assures stability, full transparency in the supply chain, that workers are paid promptly and fairly, and work in safe conditions with no child labor. FTF members also promote cultural identity and encourage environmentally sustainable practices.
To see the entire line of table linens, please visit http://www.JubileeTraders.com. For a line sheet or for more information, please contact us at info(at)jubileetraders(dot)com.