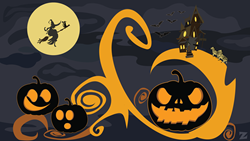 While things are winding down for the year…the savings are getting spookier with Zebra Blinds' Halloween Sale!
Mahwah, NJ (PRWEB) October 30, 2013
The season is changing, and the days are getting colder. The month is coming to an end, and the wind is picking up in time for October 31st. In the spirit of Halloween and the time for all childhood fun, Zebrablinds has launched the new campaign for child safety month with free cordless upgrades for Graber Faux Wood.
Join http://www.zebrablinds.com for some frankentastic savings during this month's sale on great window treatments, and cordless options. Zebra Blinds is a window treatment site dedicated to providing its customer with the best it can offer in window fashion. The site showcases items such as blinds, shades, shutters, drapes, and drapery hardware. There are options for all tastes and styles, and a price point for every budget.
Zebra Blinds sells numerous items at discounted prices throughout the year. This month, the Halloween sale highlights amazing items by brands like Graber, Norman, and Comfortex. The savings are further doubled when Child Safety month is taken into consideration. For the occasion, and to aid families in staying safe all year round, Zebra Blinds offers free upgrades to cordless systems on many of their window treatments. Cords are cumbersome and hazardous for children, whereas cordless systems will reduce another hazard in your home. Visit http://www.zebrablinds.com to view the various deals and sale offers that are displayed on the front page.
Zebra Blinds works to ensure the satisfaction of their customers by offering amazing deals on items like blinds, shades and shutters. With the Halloween sale, find items that fit any style and work for any budget.
Purchase window treatments with Zebra Blinds for spooktacular savings.