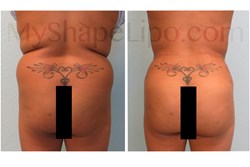 I'm beyond happy with my results. I look like a totally different person.
Las Vegas, NV (PRWEB) October 31, 2013
MyShape Lipo of Las Vegas was the clinic of choice for Lady G, the popular radio DJ for Hot 97.5 FM. On October 11, 2013 she had liposuction of the abdomen and waist then transferred the fat to her buttocks for the Brazilian Butt Lift. The procedure went very well and nearly 4 liters of fat was sculpted from her tiny 4'11" frame by Trevor Schmidt PA-C the Liposuction Specialist at MyShape Lipo.
The procedure took her boxy shape and removed the thick layer of fat to unveil the sexy curves beneath. One can clearly see from her before and after photos, the dramatic change that her body has taken in just the past two weeks. She's lost that dreaded "muffin top," and replaced it with a slim waist. Her previously flat bottom is now plump, round and ready to "drop it like it's hot."
"Lady G has gotten some incredible results," says Trevor Schmidt PA-C. "I'm honored that she gave me the opportunity to help. She is a talented DJ and I hope that this gives her the confidence to excel in her career."
"I'm beyond happy with my results," exclaims Lady G. "I look like a totally different person. I can't believe how good I look. Trevor Schmidt and the staff at MyShape Lipo are amazing."
Lady G is a self proclaimed "military brat" who moved around regularly throughout her childhood. She has been living in Las Vegas rocking the airwaves for the past 5 years. Like most women she has struggled with her weight and has tried every diet and all the latest work out fads.
When asked how this procedure will affect her life, she says, "confidence is my number one issue. Most people think that in my position, I live this uber glam lifestyle but I'm just a normal person that struggles to feel good about myself. Because of my status I feel more pressure to look good and meet expectations," explains Lady G.
"We all want to look good in our clothes, but my other concern is the unhealthy extra weight that I have been carrying around that can lead to diabetes, heart attack, etc." says Lady G.
"Like I say, not everything is for everyone, but thank God for Myshape Lipo because it was meant for ME! I just saw my before & afters and OMG what a difference. Forget just the fat that was taken out, but the sculpting that Trevor mastered is remarkable. Talk about a life changing experience," preaches Lady G.
MyShape Lipo is a specialty liposuction clinic in Las Vegas, NV. Trevor Schmidt PA-C the liposuction specialist has performed over 15,000 liposuction procedures on all shapes and sizes. They offer complimentary consultation via phone or in person by calling 702-818-5476.