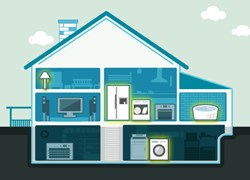 Vancouver, BC (PRWEB) October 30, 2013
Imagine if one day ordinary washing machines started sending reminders when people forgot to dry their clothes, or if homeowners could find out how much money they lost powering devices that continue to use energy when they're supposed to be off. Neurio is a new technology that monitors how much power homes are using, and figures out the cost of running individual appliances using smart algorithms that look for patterns and potential problems.
Energy Aware Technology, the company launching this one-of-a-kind, revolutionary product, is a Cinderella story – a small, Vancouver-based company that started as a university project with a great idea that took the technology and clean energy industry by storm. Backers from around the world funded Neurio for $120,000 in just two weeks, exceeding its 30 day, $95,000 goal. Expected to retail for $229, the Neurio sensor is available for a limited time on Kickstarter today for $129 until November 15, 2014.
"Think of the wires in your home as a nervous system without a brain to collect information. Neurio is that missing piece and it is very simple to use," says Janice Cheam, President and CEO of Energy Aware and recent finalist for the Canadian Women Entrepreneur Awards - to be announced November 2013.
Beta users have saved up to 44% off their energy bills by identifying what they should turn off or unplug. Users internationally are calling it, "too good to be true!"
"What makes Neurio exciting is that it offers something for everyone," says Dr. Ali Kashani, VP Software for Energy Aware, "whether you're simply looking to learn more about the cost to run your appliances, or you want to make your home smarter and more connected, Neurio can help. It makes your ordinary appliances smart, and your home more efficient." Neurio has an open platform so it can power new apps and integrate with other systems designed to automate the home.
Neurio Home Intelligence has launched on Kickstarter. By pledging to support the campaign, backers will be the first to receive one. Go to http://i.neur.io/kickstarter for more information.
About Energy Aware
Energy Aware Technology Inc. is a leading developer of hardware and software solutions for utilities in the United States, Canada, Australia and Europe. Energy Aware is the winner of the BC Technology Industry Association's Most Promising Startup Award, and has been featured in BC Business Magazine. The founding team consists of Janice Cheam, Colby Gore, Dr. Ali Kashani, and Jon Hallam.
For more information, visit http://www.neur.io.