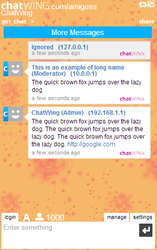 Denver, CO (PRWEB) November 03, 2013
Chatwing Development Team has started making new content for all of its active blogs. A large percentage of this content is related to widget installation tutorials and online marketing tips. Trend discussions are also common. Recently, Chatwing website chat software moderators have started explaining the importance of premium coins to any user.
Chatwing's premium services have been introduced for more than two months now. Based on the findings of the research team, the premium services were patronized by hundreds of web users from different niches, forums, and communities. The company's chatroom developers have foreseen that the virtual coins will become more valuable before the year ends.
"We advise our users to purchase bulks of virtual coins so that they can use these whenever new premium services are available," says Terrence Good, a moderator for Chatwing chatrooms. "Since virtual coins just stay in a user's dashboard, it will be convenient to just use them for any service. Each service costs only 1 coin, which is equivalent to $ 1. There are also tons of ways to pay for Chatwing coins."
The premium chat software services are bound to get necessary updates within weeks or months. This is because of Chatwing Team's total dedication to quality service and improvement of global online connectivity. For more news and widget information, users can check out Chatwing's official Facebook page.
About Chatwing.com
Chatwing.com is a company that has brought innovation to the modern chat widget. Operating for more than five years now, Chatwing and its team of developers have dozens of ideas ready to be introduced to the public. The Chatwing chat app is an easy-to-use online tool that can help web users interact with each other and can also generate continuous traffic. Chatwing will always be a "freemium" application for everyone.