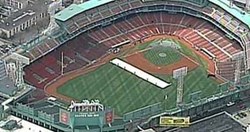 Boston, MA (PRWEB) October 30, 2013
Cheap Concert Tickets has sold out Boston Red Sox vs. St. Louis Cardinals World Series tickets for all budgets and seating preferences. This well known secondary ticket exchange has low overheads which convert into savings for their thousands of customers. Most of their business is from repeat customers who know their prices are generally the lowest that can be found online.
With a 3-2 series lead in the 2013 Major League Baseball World Series, the Boston Red Sox will be looking to finish off the series when they welcome the St. Louis Cardinals back to Fenway Park. The teams split the first two games of the series in Boston and after the Red Sox won two at Busch Stadium in St. Louis, will be looking to finish off their third World Series title since 2004.
In game six, the Red Sox will send John Lackey to the hill to battle the most surprising player of the 2013 postseason, Michael Wacha. Lackey has appeared in four games this postseason including three starts. He has a 2-1 record with a 3.26 ERA and has 20 strikeouts in 19 1/3 innings. In years past, players like Andruw Jones and Derek Jeter have made a name for themselves with their postseason success, much like what Wacha has done this season. Wacha is 4-0 in this postseason with a 1.00 ERA. Wacha has allowed just 11 hits in 27 innings, while striking out 28.
The 2013 World Series has seen some of the most controversial finishes in the history of the sport. Prior to this year, the infamous 1986 World Series game six starring Bill Buckner was the last time an error ended World Series game. In game three, the Cardinals picked up the victory on an obstruction call after Jarrod Saltalamacchia made an errant throw to third base and Wil Middlebrooks "obstructed" Allen Craig. Despite Craig being tagged out at home plate after a throw from Daniel Nava, third base umpire Jim Joyce made the call and the Cardinals walked off in most improbable ways.
If that wasn't enough for baseball fans, the Red Sox picked up a shocking victory of their own in game four, getting a walk-off pick-off victory. After Craig got a pinch hit single with one out in the bottom of the ninth inning, he was replaced on the base paths by rookie Kolten Wong. The decision was an easy one for Cardinals Manager Mike Matheny to make with Craig hobbled due to injury. Boston closer Koji Uehara retired the next batter, bringing the Red Sox to an even series. As fans tuned into the game, there was confusion as to why Mike Napoli was holding Wong on the bag with two outs. With Carlos Beltran at the plate, Uehara quickly turned and picked off the rookie.
This World Series has been filled with plays that will leave lasting memories – for both good and bad reasons – and has seen several players burst out onto the scene. For Boston, their usual suspects have led the way with David Ortiz at the top of the list. Through five games, Ortiz has hit .733 (11-for-15) with two home runs, six RBIs and a 2.017 OPS. The Cardinals have been led by Matt Holliday, who has the only two home runs for the Cardinals in the series and a .286 average to match.
Game six of the 2013 World Series will see the first pitch at 8:07 p.m. from Fenway Park.
About Cheap Concert Tickets:
Cheap Concert Tickets delivers tickets to sold out concerts and events worldwide when no one else can, and they do so at discounted prices. As a member of TicketNetworkDirect, they can guarantee the delivery of tickets on time for sporting events like the World Series, NASCAR, NBA, NFL, and NHL, and for the hottest theater and concert events too like Radio City Christmas Spectacular tickets. With CheapConcertTickets.me customer service is a priority, for more information email support(at)cheapconcerttickets(dot)me.