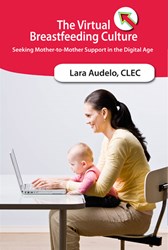 Mothers of premature babies often reach out to other mothers online to find the help and support they need.
Amarillo, TX (PRWEB) October 31, 2013
Giving birth to a premature baby can be frightening and overwhelming. Mothers may find that no one they know can really understand what they are going through. No mother should ever feel alone, or like she doesn't have anyone who will reassure her or answer her questions. Unfortunately, according to Lara Audelo, author of the Virtual Breastfeeding Culture, many new mothers, especially mothers who preterm babies, experience precisely that. They are isolated, with no one to help them. In response, these new mothers are now reaching out to each other—online. November is Prematurity Awareness Month.
In her new book, The Virtual Breastfeeding Culture, author Lara Audelo describes how technology has given new mothers a way to end the isolation and increase support: Krysta, the mother of a baby born at 25 weeks, found it difficult to continue the regimen of pumping that allowed her baby to receive her milk. When she felt that she could no longer cope, she turned to find support online.
"I pumped every three hours for the next month. I was getting ounces by then, but I was so tired that I nearly threw the pump through the wall. I couldn't look at the pump or think of my son, as so many pumping moms do when they pump, so I communed on Facebook and read. I also joined some other preemie groups, such as Breastmilk for Preemies (http://www.facebook.com/BreastmilkForPreemies) and Mended Little Hearts (http://www.mendedlittlehearts.org). It wasn't long before I was able to give advice to other preemie or pumping moms."
The Internet offers support in a unique way. Mothers can take what they want and leave the rest. They can find other mothers online at 2 a.m. when another late-night feeding that has left them feeling ragged. It's a global community; their 2 a.m. is someone else's 10 a.m. Mothers might find like-minded women who share many of the same values, who live in a different town, state, or country. Their similarities are enough that they form friendships and keep coming back for more support.
Even if mothers don't have access to local support groups at hospitals, or there are no breastfeeding mothers who meet regularly where they live, mothers don't have to be alone. They can find their tribe online. When mothers face a problem, someone will hop in on a moment's notice to help. Access is instant, and in an increasingly technologically driven world, this is appealing to many mothers. Lara Audelo expressed it like this: "Online support helped me to continue breastfeeding, and on some days my online support group saved my sanity!"
Ask any new mother who is at home with a week-old baby how different her life is now, and she probably wouldn't even be able to articulate the incredible change. Mothers of premature babies face even more challenges. It is an awkward time. Mothers need support and help more than ever, but they are often alone and afraid because they have no idea what they are doing. Mothers all define success in their own way, and they all reached out and received valuable support online, whether by using social media, like Facebook and Twitter, or by reading breastfeeding blogs, or belonging to email lists. In less than two decades, women have built an amazing virtual infrastructure of support with the hope that no mother in need of help will fall through the cracks.
Lara Audelo, author of The Virtual Breastfeeding Culture, is the mother of two young boys, and a breastfeeding educator and advocate. She believes increased education for all is the key to helping mothers achieve their individual breastfeeding goals, and is crucial for individuals who are responsible for providing much-needed support to nursing mothers. She received her Certified Lactation Education Counselor (CLEC) credential from University of California San Diego (UCSD) in 2010.
Praeclarus Press is a small press founded by Dr. Kathleen Kendall-Tacket t and dedicated to providing excellent resources in women's health. It is located in Amarillo, Texas.