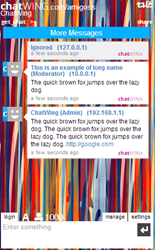 San Diego, CA (PRWEB) November 06, 2013
Weeks after launching the official chat software 3.0, Chatwing's developers have monitored users coming in from different online communities, such as business and finance. In line with this, the developers have recently emphasized why the app 3.0 is essential in the premise of online mentoring. Here are the major points noted:

Persistent connection. Once the Chatwing chatroom is installed in a blog or website, the visitors can communicate with each other at a constant rate. The website owner can supply the topics so that discussions are continuous, creating large streams of online traffic. The chat software can provide a way for visitors to share necessary information about the topics they want. Additionally, it can be an opportunity for them to make new friends.
Social media at its peak. Visitors can log in with their social network accounts, like Facebook, Twitter, Google, and Yahoo. Facebook users can now expand their networks, while Twitter users can find more followers. Google and Yahoo users can now find people for email database and contacts. Chatwing Team has also added a social sharing option, wherein chatroom owners can share discussions and conversations.
Flexibility. Using and modifying the Chatwing chat app is easy. In the dashboard, tons of editing functions are introduced, allowing the owner to create any chat box he wants. Creativity will never be hindered with Chatwing's advanced editing platform.
With these options, online mentors can share their studies and research easily. More than that, they can foster long-term connection among the website visitors.
About Chatwing.com
Chatwing.com specializes in the new field of website chat app. Over years, the Chatwing team has introduced live chat widget for hundreds and thousands of blogs. The Chatwing application bridges people from many parts of the world, creating global synergy through the Internet. The shout box can be installed in just seconds, and it can be used for varying purposes such as leisure and Internet marketing. It also allows a user to customize the size, color, and name of the widget.