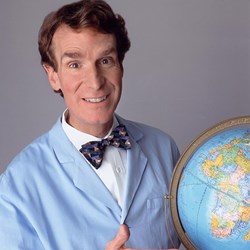 Los Angeles, California (PRWEB) October 31, 2013
After suffering a leg injury during a fall on "Dancing With the Stars," Bill Nye the Science Guy received an innovative treatment known as platelet-rich plasma therapy (PRP) in the hope of returning to the stage in the subsequent week. Return he did, and he brought with him a layman's explanation of PRP, the kind of science-made-simple description his legions of fans know him for.
According to Nye, he received "platelet-rich plasma, which is where they take platelets from your blood in your arm, and poke them into the tendon and to-be-repaired area. It excites the cells in the right way to bring 'em around faster than they would otherwise."
Says Dr. Bill Releford, Founder and CEO of the Releford Medical Institute (RMI) in Los Angeles, "Mr. Nye's description is nearly spot on in terms of how PRP speeds healing — though I'd suggest that the next time he needs a treatment, he pays a visit to our offices. We don't 'poke' our patients anywhere during PRP therapy!"
Dr. John Simmonds, an orthopedic surgeon and the Medical Director of the Institute, further explains the technicalities of how PRP works. "The procedure starts by drawing blood from a patient. This blood is spun in a centrifuge to concentrate the platelets and growth factors. When injected into the site of an injury, the PRP has the potential to supercharge the healing process and reduce pain."
The RMI has developed proprietary processes and treatments that use PRP to treat joint and tendon pain, ankle sprains, heel pain, and plantar fasciitis. The Institute also uses PRP injections to improve poor circulation, treat diabetic neuropathy and HIV neuropathy.
If you feel pain from any of these conditions or became injured while dancing along with the stars, call The Releford Medical Institute at 310-412-0183 to schedule a free medical consultation and learn more about PRP therapy.
About The Releford Medical Institute
Founded by CEO Dr. Bill Releford, The Releford Medical Institute (RMI) is a full-service podiatric, sports medicine, and orthopedic practice. Together with medical director and orthopedic surgeon Dr. John Simmonds and tissue specialist James Hays, the RMI provides the highest standards of medical care and manages common and complex orthopedic conditions, using non-surgical methods whenever possible. These include proprietary PRP injections, patient education, chiropractic, physical medicine, physical therapy, rehabilitative treatments, nutrition, and sports medicine education.
Through the Releford Foot and Ankle Institute, the Releford Medical Institute is committed to healthcare outreach and advocacy. It aims to expand community-based health screenings through innovative partnerships, and has a longstanding commitment to reduce the diabetes-related amputation rate and provide comprehensive wound care and limb salvage services.