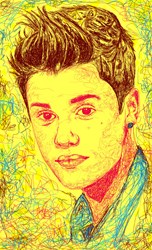 Kenal may be one of the few Haitian artists that have completed artwork of the Canadian superstar Justin Bieber.
Los Angeles, California (PRWEB) October 30, 2013
Kenal Louis is a creative artist who has composed many album cover design services for independent musicians; among those independent musicians was the infamous musician Rebecca Black, the singer of viral hit "Friday"; the single cover for the song which cause much stir was created by Kenal since then have been working as a freelance fashion and live music photographer in Omaha, Nebraska. Among his diverse skills he also generates original artworks for sale, such as his Justin Bieber drawing.
Kenal Pierre Louis was born in the island of Haiti in Port-Au-Prince. Haiti a once French colonize country and the first black country to gain independence from slavery in 1804. Much of the talented artists works are influenced by his experience growing up as a child in Haiti to migrating to the United States; where opportunity is in abundance if one works diligently and hard enough to make the voice heard.
The visual artist formed Kenalsworld in 2010 and since then have used the brand to not only promote his art and photography, but uses the website as an online blog to promote other visual artists, talents, and musicians like himself.
Justin Bieber is without a doubt the biggest name in entertainment and is still a musician many topics spring up about. One of Kenal's latest original artworks about the musician have gained much positive comments as well as feedback on his creative Facebook page as well as his website's art blog.
The piece entitled "Justin Bieber In Line" is as simplistic as the sound of the title. The composition in which Kenal created the piece took several days to compose with the use of line art. With much vibrant colors the artwork by the Haitian artist is alive, fun, and very appealing to look at.
On Kenalsworld the artist states "The following drawing is the second drawing I have composed of the following musician Justin Bieber. A child star that have developed to a grown musician; though the spotlight have not died and continue to latch on to Justin, he still works to create hit music. I have always been a fan of Justin Bieber; I never got why people will follow others and the media based on their opinions and assumptions about celebrities and public figures."
-Kenal
Kenal may be one of the few Haitian artists that have completed artwork of the Canadian superstar Justin Bieber. The Justin Bieber drawing was designed to bring a soulful feeling to a lounge, office or a bedroom. The presence of the colorful artwork creates an atmosphere that is fun for the musicians fans.
Visit kenalsworld.com to view more original art compositions by the Caribbean born artist.
Evenson St. Vil
Kenalsworld LLC
http://www.kenalsworld.com
submission(at)kenalsworld(dot)com
561.351.9224