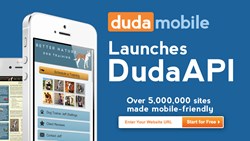 "We're dedicated to providing the best possible tools so our customers can mobilize their websites in a way that doesn't require them to start from scratch." - Simon Anderson, CEO of DreamHost
Palo Alto, CA (PRWEB) October 30, 2013
DudaMobile, the leading do-it-yourself mobile website builder, today announced the launch of DudaAPI, which provides a toolset for Duda Partners and developers to seamlessly integrate the award-winning mobile platform into their own website. DudaAPI enables developers to create sites, set up sub-accounts, implement single sign on (SSO), access mobile site analytics and more. Widely requested by numerous creative agencies and web developers, DudaAPI empowers companies large and small to add DudaMobile to their product stack without taking resources away from R&D.
DreamHost, a global web hosting and cloud services provider, partnered with DudaMobile last month to give their 350,000 customers the ability to easily create a mobile site with a push of a button from within the DreamHost dashboard. DreamHost embedded a fully branded version of the award-winning DudaMobile editor into their own platform using DudaAPI.
"We're dedicated to providing the best possible tools so our customers can mobilize their websites in a way that doesn't require them to start from scratch," said Simon Anderson, CEO of DreamHost. "We want to give our customers everything they need to build a site that works in a multi-screen world, and we're proud to be working with DudaMobile, the leader in the mobile website space."
AfterFive by Design, a medium-sized website design and professional web hosting company, used DudaAPI to create mobile versions of their client websites immediately after integration. Prior to using DudaAPI, the company considered hiring a developer to create more functionality in its mobile platform but with DudaAPI, they no longer needed this costly hire.
"Our team was spending a lot of time manually creating mobile website previews and mock-ups, taking away our ability to cater to several customers at once," said Todd Morrissette, founder of AfterFive by Design. "Since using DudaAPI, requests for mobile websites by our customers have easily quadrupled. It frees up time for our team to easily showcase a new mobile website and gives our customers all the tools to create these websites themselves on our platform. DudaAPI's magic was a hit out of the gate and only took a day to implement."
Two-person company, Cohlab, partnered with DudaMobile to help reduce the barrier of entry for the numerous small businesses looking for a quick and easy mobile web solution. To separate itself from the competition, Cohlab was very keen to find a unique way to make their mobile site creation experience as intuitive as possible. With DudaAPI, Cohlab was able to create new sales strategies to market to their SMB audience.
"All of the barriers of entry for creating a mobile website are removed with DudaAPI," said Cliff Robbins, co-founder of Cohlab LLC. "DudaAPI is a very powerful and painless scenario to give our clients previews of their converted mobile websites. From a coding standpoint, the top-notch integration of DudaAPI is a much cleaner process for everyone and allows the created mobile websites to sell themselves. DudaAPI has easily surpassed our expectations, especially with its extensive documentation and attention to site security."
For more documentation regarding DudaAPI, head to our support portal at: http://www.dudamobile.com/api-docs/
Designers, developers and agencies interested in additional mobile web solutions beyond DudaAPI can join the Duda Partner Program, which provides creative agencies and designers the tools they need to create and sell mobile sites to their customers utilizing DudaMobile's award-winning site builder. Duda partners receive discounted partner pricing, priority technical support via phone, email and live chat; expert tutorials and training with webinars, videos, whitepapers and more. There are two programs within the Duda Partner Program, including DudaDesign at $199 and DudaWhite at $399. For more information on the Duda Partner Program, go to: http://www.dudamobile.com/partners.
Social Networks:
LIKE DudaMobile on Facebook:
http://www.facebook.com/dudamobile
FOLLOW DudaMobile on Twitter:
http://www.twitter.com/dudamobile
About DudaMobile
DudaMobile is a do-it-yourself mobile website platform that gives small- and medium-sized businesses a fast, simple and affordable way to build a mobile-friendly website. With its patented one-click conversion technology, DudaMobile makes it easy to convert any desktop website into a mobile-optimized site in seconds. DudaMobile is widely used amongst agencies, designers, marketers and small businesses, as well as large enterprise partners including AT&T, Yahoo!, Google, Homestead, Intuit and OpenTable. DudaMobile is based in Palo Alto, California and currently hosts five million mobile websites on its platform. For more information, visit http://www.dudamobile.com.
About DreamHost
DreamHost is a global Web hosting and cloud services provider with over 375,000 customers and 1.2 million blogs, websites and apps hosted. The company offers a wide spectrum of Web hosting and cloud services including Shared Hosting, Virtual Private Servers (VPS), Dedicated Server Hosting, Domain Name Registration, the cloud storage service, DreamObjects, and the cloud computing service DreamCompute. Please visit http://DreamHost.com for more information.
About AfterFive by Design
AfterFive by Design, LLC is a full-service design and development firm specializing in creating market-ready, usable website and software applications. AfterFive by Design approaches each project with a methodology based on industry best practices, as well as effective processes and procedures developed and refined through our numerous client engagements.
AfterFive by Design creates thoughtfully designed, intuitive user experiences with sophisticated and meaningful functionality. Our development, mobile websites, and ecommerce capabilities surpass those of other design firms and exceed those of many other development consulting firms. AfterFive by Design is based in Sanford, Maine. For more information, head to http://www.afterfivebydesign.com/.
About Cohlab LLC
Cohlab is a web solution company with Mobile and Web Design with SEO in mind. The company collaborates with clients to develop web and mobile strategies that get the online results they want for their small or medium-sized business. Cohlab offers desktop and mobile website design tools, search engine marketing (SEM), SEO and custom work. Cohlab is located in Sartell, Minnesota. For more information, head to http://cohlab.com.
###