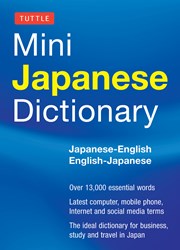 North Clarendon, VT (PRWEB) November 03, 2013
Tuttle Publishing has announced the release of the Mini Japanese Dictionary by Yuki Shimada and Taeko Takeyama. The book is the most current mini Japanese dictionary available on the market and is ideal for any application where a handy and portable dictionary is required. It's useful pocket-sized format and easy-to read type makes translating Japanese much easier. In addition to being an excellent English to Japanese dictionary and Japanese to English dictionary Mini Japanese Dictionary contains important notes on the Japanese language, Japanese grammar and Japanese pronunciation. All Japanese words are written in a Romanized form as well as Japanese script (kanji and kana).
Features of the book include:

Bidirectional Japanese-English and English-Japanese Dictionary
Over 13,000 essential words, idioms and expressions
Headwords printed in blue for quick and easy reference
Latest computer and social media terms
A brief introduction to the language
The ideal dictionary for business, study and travel
The Mini Japanese Dictionary is intended for use by tourists, students, and business people traveling to Japan or as a Japanese language study reference and is an essential tool for communicating in Japanese. The book is now available for purchase at select bookstores, Tuttle Publishing and Amazon.
About Tuttle Publishing
Established in 1948 by Charles Egbert Tuttle Jr. in Rutland, Vermont and Tokyo, Japan, Tuttle Publishing is the premier publisher of English language books on Asian culture. Today, Tuttle maintains an active offering of books on a wide range of topics, including Asian culture, Asian literature, Asian architecture, Eastern spirituality, gardening, cooking, martial arts, crafts, travel, health and wellness, and fine art for a worldwide audience. For more information, visit http://tuttlepublishing.com.